These tartlets were a beautiful discovery.
I served them as an appetizer. I just made a small change to the original ingredients by adding the eggs.
They were tasty, but I realized that if you are greedy on the brie then they'll be dry.
I shouldn't have Balsamic Vinegar according to Dr. Mozzi, but I figured that a drizzle won't hurt.
Gifts I have received and that I will always cherish and keep. And thank you all for believing in me and this blog.
Sussy's Granny: she hand made a bag (polka dots), a bag to transport a cake tray and an apron with D on it (looks like the masterchef apron)
Martino and Cosimo's: Eat Parade (tv food and wine show) the book by Bruno Gambacorta. The book has their dedication and his autograph and dedication too.
Tip: when you buy a Balsamic Vinegar, read very well the label. Always buy the ones that don't contain colourant and additives.  They may cost a lot but believe me they're worth the price. The real Balsamic Vinegar has a dense consistency and a drizzle or just a drop is enough to turn a simple dish into a gourmet. Experiment on meat, salad, strawberries and why not on ice-cream.
Source: Roostblog
Photos: Susanna Clerici
Related posts:
Roasted tomato and brie tartlets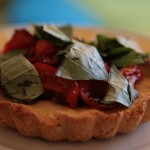 By Dalia Bonfanti Published: June 5, 2012
Yield:

4 Servings

Prep:

30 mins

Cook:

60 mins

Ready In:

1 hr 30 mins
Roasted tomato, brie and balsamic vinegar in an almond tartlet
Ingredients
Instructions
Beat the eggs and add the water and oil. In a separate bowl mix the almond flour, salt and rosemary. Then combine the mixtures and mix very well.

Grase with butter or margarine 4 tartlet pans. Divide the dough in half, than divide each hal into half again, So you have 4 equal parts of dough.

Turn the oven to 180°C. Press the dough in the tartlet pans. Bake for 15 minutes. Don't turn off the oven.

Remove and cool for 15 minutes. Then put the tarts into the fridge for 30 minutes (this should help to remove them from the pan, I really had some trouble though).

Cut each tomatoes in 4. Put them in a big bowl and add the oil. Roast them for 30 minutes.

Once you remove the tarts from the pan put them up right on a baking sheet. Fill them with 3 slices of brie each (you can abound), the tomatoes.

Put them in the oven for 10 minutes (until the brie is melted).

Remove from the oven, drizzle each with half tablespoon of Balsamic vinegar and add on top a big bunch of chopped basil.

WordPress Recipe Plugin by ReciPress