This is no ordinary clarified butter everyone.
It is aromatic and turns anything into delicious and irresistible meal.
Traditionally it should have 2 ingredients that I couldn't find here in Australia. And if anyone of my Ethiopian fellows knows where I can buy them in Perth, I would appreciate it if you let me know.
Korerima (false/black cardamom not to confuse with the Indian cousin).
Images taken from the web
Koseret (a herb that is similar to oregano).
Images taken from the web
The 3rd ingredient I couldn't use was Besobela (Thai basil/sacred basil). I have seen it at the fruit and veggie markets but was not able to buy it at the moment. It has a beautiful aroma that is completely different from the Italian Basil. We use to have it in the garden of our house in Addis Ababa.
I remember that the butter we use to buy was an organic one wrapped in banana plant leaves.
Kibbeh is usually added just a couple of minutes before the product you are cooking is ready.
As the kibbeh melts it gives the sauce or stew and amazing taste and umami factor.
It is also one of the main ingredients for Kitfo (raw beef minced by a knife).
Images taken from the web
I never remember it being stored in the fridge, it was always in the pantry at room temperature.
But for food safety reasons I decided to keep it in the fridge.
The organic butter (not clarified) is used as hair mask. In some Ethiopian tribes it is used to style hair (like gel), as shampoo (where water is scarce) and as a protection from the heat of the dry and hot weather (usually mixed with red ochre mixture)
This images from this beautiful article thedailymail.co.uk can show how healthy the hair of Ethiopian people are. There wouldn't be any need of relaxers or perms. It did wonders on my hair too

Let me know if you have other version of making it Kibbeh.
Cheers!
.
Related posts:
Ethiopian Clarified Butter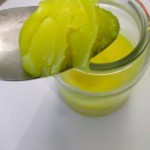 By Dalia Bonfanti Published: December 18, 2014
Prep:

10 mins

Cook:

45 mins

Ready In:

55 mins
This is no ordinary clarified butter everyone. It is aromatic and turns anything into delicious and irresistible …
Ingredients
Instructions
Melt the butter in a pot over a medium heat and bring to boil.

Add the dry ingredients

Add the wet ingredients and reduce the heat.

Simmer for 45 minutes skimming any foam that comes to the top.

After 45 minutes the melted butter will be transparent and all the brown milk solids will deposit on the bottom of the pan.

Gently pour the liquid through a cheesecloth into a heat resistant container. (I used a recycled Moccona Coffee container) Let it cool and place in the fridge. It can conserve for 2 months but it's not guaranteed it will last that long. It is delicious!

WordPress Recipe Plugin by ReciPress