Good morning everybody!
Yesterday I made a lemon curd because I had the intention to make macarons this morning. Even though I followed all the instructions of Food52 it turned out to be so liquid and not stiff. So this morning, instead of repeating the process "bowl over a simmering water", i put it directly over the stove and it became so creamy.
I made my macarons, and surprise! They really were beyond my expectation. I made two trays, and I made the mistake to open the oven to switch their position and my macarons lost their puff.
But, my husband and I were satisfied by the final result.
Source: Food52
Trust me it's much easier to make them than to write about them!
Enjoy
Related posts:
Lemon curd macarons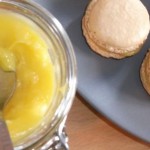 By Dalia Bonfanti Published: February 5, 2012
Yield:

16 Servings

Prep:

40 mins

Cook:

30 mins

Ready In:

1 hr 10 mins
Good morning everybody! Yesterday I made a lemon curd because I had the intention to make macarons this morning. Even though I …
Ingredients
Instructions
Whisk all the ingredients except the butter until everything is blended well.

Put it in a pot over low fire and continue whisking until it thickens a bit. Then turn off the flame and continue whisking until it has a creamy texture.

Add the cubes of butter, one cube at a time, making sure that the previous cube is well bended. Keep it in the fridge overnight.

Put in a food processor the almond flour and the confectioner's sugar and process them until you can't distinguish them.

I don't have a mixer so I whisked the egg whites by hand. Whisk the egg whites until they were no longer transparent. Then gradually added the granulated sugar. Whisk until the egg white was firm.

Gradually add the almond mixture and mix very well all the ingredients and add the lemon extract. Put your mixture into a pastry bag and pipe it out on a baking sheet. Don't put the macarons so close as they will expand.

Bang your tray over a table just to make sure that there is no air in them and to make them flat, and let them sit for a 30 minutes. To make sure that they are ready to go into the oven, gently touch the top with the tip of your finger , and if the surface is dry and not sticky, then it's time to bake them!

Bake them for 15 minutes at 150°C, or until they become golden and never open the oven. Don't make my same mistake!!!

Once they are ready, take them out of the oven and let them cool. Spread a bit of lemon curd on the flat side of the shells and sandwich with another shell.

WordPress Recipe Plugin by ReciPress