Since Valentine's day was on Tuesday, we decided to celebrate on Saturday night. So I looked on internet a recipe full of strong flavours while my husband took care of the wine.
The menu was:
Cheese truffles
Feta-crusted beef with tomato sauce and quinoa
Chocolate souffle with melted heart 
Source: BBC good food
I used beef instead of the lamb and instead of the breadcrumbs I used almond flour. You can have plain steamed rice or quinoa with this dish.
This dish was so delicious. Once the beef began cooking in the oven, the whole house was filled with a wonderful aroma, that we couldn't wait to taste it. This dish is very simple to make and the results will make you conquer that special person you are sharing it wth.
My husband bought this wonderful wine
"Barolo"
, one of Italy's best wine, that really was great for all the combination of flavours, like the feta and the thyme.
Related posts:
Feta-crusted beef with tomato sauce and quinoa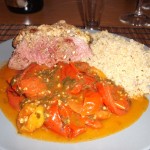 By Dalia Bonfanti Published: February 15, 2012
Beef, feta cheese, tomto and quinoa based.
Ingredients
Instructions
Marinate for 5 hours the beef in a mixture of oil, thyme, oregano and crushed garlic.

Then remove the beef from the marinate sauce and add into the sauce the crumbled feta cheese and the almond flour. Once you mixed up everything, cover the beef. Put it in the oven for 30 minutes at 210°C.

Warm the oil in a pan. Crush the garlic and add it to the pan together with the parsley. Be careful not to burn the garlic.

Add the tomatoes and let it cook until the tomatoes have released their juice and are tender.

WordPress Recipe Plugin by ReciPress