Hi everyone!
Today we celebrate our 1st wedding anniversary. We woke up this morning and we took our ring off and we put them back on repeating "Yes, I do…". We had  a wonderful weekend, we spent Saturday in Venice, and yesterday we went out for a romantic dinner. I will write you all about Venice on my next post.
Kat of The Bobwhites was our August 2012 Daring Baker hostess who inspired us to have fun in creating pate a choux shapes, filled with crème patisserie or Chantilly cream. We were encouraged to create swans or any shape we wanted and to go crazy with filling flavors allowing our creativity to go wild!
1st attempt: I tried to make them with rice flour but I forgot to add the water and to cook the batter so I ended up getting biscuits.
2nd attempt: I tried with chestnut flour, it worked perfectly, but thanks to my lack of patience I opened the oven before the time and they lost their puffiness. But they were delicious and were perfect with the fig jam.
At the end of the day, I must say that they are easy to make even if they are a bit intimidating, and they are delicious. I will definitely try to make them again. Thank you Kat for this beautiful challenge!
Cheers!
Source: Petit Chef 
Pate a Choux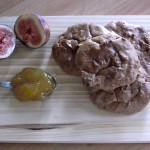 By Dalia Bonfanti Published: August 27, 2012
Yield:

12

Prep:

20 mins

Cook:

30 mins

Ready In:

50 mins
Chestnut flour based
Ingredients
Instructions
In a saucepan combine the water and butter and boil them.

When the butter is melted, turn the heat off and add the salt and the flour. Mix well.

Return the pan to the heat and cook the batter until it comes off the bottom and sides.

Transfer the batter in a bowl and mix for another 1 or 2 minutes, just to cool it.

Turn on the oven to 220°C.

Add one egg to the batter and stir very well until it's well combined. Add the other egg and mix very well. The batter will be thick and glossy.

Put baking paper on a tray. Pipe or scoop the batter on the tray.

Bake for 10 minutes at 220°C. Lowe the temperature to 180°C and keep baking for 20 minutes. Please resist to the temptation of opening the stove or they will loose the puffiness that they must have.

Once they are cooked, let them cool. You can feel them with all sorts of cream or enjoy them with jam.

WordPress Recipe Plugin by ReciPress