Venice is a beautiful city and Venetians are so friendly. I must say compared to all the Italian cities I have visited, this city is at the top of the list.
We arrived at around 9:40 in the morning. And the magic began right after the train left Mestre Station, suddenly you pass from land to the lagoon and you have water everywhere.
We took a vaporetto (steamboat) and went to Fondamente Nove stop, to get the vaporetto number 12 to Burano island.  We had to wait for 20 minutes so we decided to take a short walk (it was also an excuse to escape from the hot sun), we passed an old pasticceria that had some savory treats, and we ate samosa like filled pastry  and a filled egg.
We took the number 12 vaporetto and we went to the Burano Island. I must be honest with you, I don't really enjoy being on water and in water. I love showers and baths and I enjoy seeing and being on a beach, waterfalls etc. So 40 minutes on a vaporetto weren't that exciting.
Burano island is so beautiful. It's very small and residential.  The one thing that really takes all your attention when you get off the vaporetto are these colored houses.
I only saw one white house with some violet colored hints. The rest of the houses are so colorful. They say that fishermen painted their houses in order to be able to recognize the island from far away.
Very quiet and peaceful place. Burano is the island of lace and Murano is the island of glass. You find all these shops with amazing laces, table cloth, curtains, dresses, cute little baby dresses and shoes, umbrellas etc.
Then we took number 12 vaporetto to Murano island. We didn't stay very long on this island. It was lunch time and it was really hot. Houses on these island are square and there is no shade anywhere. So we stopped to a trattoria and had our lunch. We enjoyed seeing all these shops with amazing glasses. They make these beautiful objects with the glass. A wide variety of colors and shapes. I bought a ring, and the glass was black and turquoise. The lady in the shop was so gentle, I don't know the name of the shop, because she had just finished the business cards.
Then we took the vaporetto number 7 and headed towards Piazza San Marco. And here we are finally in Venice.
Piazza San Marco and the Rialto Bridge were full of people, so we preferred to walk away from the crowds and loose ourselves in the small streets of Venice. First stop at the mask shop, and I found it a beautiful sexy black mask. I just couldn't resist it J
We walked around freely without a destination and totally surrendered ourselves to Venice.
After a while we decided to go to the Jewish Ghetto. It's really big, and the story is a bit sad as this was like a prison for the Jewish people, as they were not allowed to go out of the ghetto form sunset till dawn, and the ghetto doors were shut and guarded.
It was Sabbath so it was empty, I really appreciated some guys that greeted us with Shalom Sabbath at the entrance of the ghetto near the Gam Gam Restaurant.
We sat near a canal and we talked for hours with our feet in the water (I took my feet out just in time, as we saw 2 small crabs and small fish).
We concluded our trip with a two Venetian drinks: Spritz and Bellini
We will definitely return to Venice because we loved everything about it! There is no smog, no cars, beautiful places, beautiful and tourist friendly people, delicious food, simply magic!
Cheers!
Rosemary from Flora's garden.
Related posts:
Rosemary and Fig Bread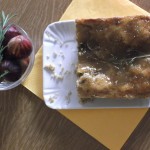 By Dalia Bonfanti Published: August 30, 2012
Yield:

1 loaf

Prep:

15 mins

Cook:

45 mins

Ready In:

60 mins
Rosemary, fresh fig and buckwheat
Ingredients
Instructions
Turn your oven to 200°C.

Combine the buckwheat and corn floyr with the salt and baking powder.

Whisk the eggs with the sugar and vanilla extract. Add the oil and the chopped rosemary and whisk well.

Add the flour mixture and the fresh figs and mix until they are blended.

Grease a plumcake pan and pour your batter in teh stamp. Add the fig marmalade on top of the batter and put on top of it the 3 sprigs of rosemary.

Turn your oven to 170°C and bake for 45 minutes or until a toothpick comes out clean.

WordPress Recipe Plugin by ReciPress