Summer is almost over and than God for that and I don't think I will be missing it this Winter.
It has been tough as it's really really hot, at 5 PM the mosquitoes start to feed and there's nothing that can stop them (mosquito hybrids???), and it has been really tough sleeping.
Anyways, Saturday me and my hubby will go to Venice. I've been living in Italy 11 years now and it's one of the Italian cities I wanted to see.
Why are we going to Venice?
This weekend is dedicated to our love and marriage. On Monday 27 August we celebrate our 1st Wedding Anniversary!
So we organizaed a trip to Venice on Saturday, a romantic dinner on Sunday and a wonderful day to spend together on Monday (+ a day off from work). I will post some pics and tell you all about the trip and the weekend.
Looking around the web for food blogs and recipes, I bumped on this beautiful blog, French Revolution. Karry prepares these beautiful recipes and I really like the way she writes. Her words take you instantly to Paris, a city I wish to visit soon. Thumbs up Karry!
Cheers!
Source: French Revolution Food
Related posts:
Biscuits with Thyme and Rosemary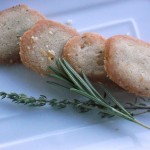 By Dalia Bonfanti Published: August 23, 2012
Yield:

36

Prep:

10 mins

Cook:

15 mins

Ready In:

2 hrs 25 mins
Rice flour, herbs and egg based.
Ingredients
Instructions
In a bowl mix with a wooden spoon (or your hands) the butter and the herbs. When they are blended add the salt and mix well.

Beat the egg, and add it to the butter mixture. Add the flour and blend well.

Place the dough into a plastic wrap and knead it and roll it with the plastic wrap. It has to be like a 2cm thick sausage.

Keep in the fridge for 2 hours.

Turn the oven at 170°C.

Cut it into 0,5cm slices and place them on the tray. Bake for 15 minutes.

Once they are cool, serce them as an appetizer with cheese or enjoy them as a snack.

WordPress Recipe Plugin by ReciPress