It's almost Summer in Italy. The weather finally seems to be warm.
I love this time of the year, as it just wakes all my senses. I love the bright sun in the morning, it gives me energy and the desire to wake up and face the day.
All around me is green and lots of flowers have blossomed, and they give importance to the green you see everywhere. And some how this is a period of the year where I celebrate life most.
So my next recipe, is dedicated to the end of Spring and the beginning of Summer. What else than fresh tomatoes and basil. The ingredients are all fresh and raw, it's a relief when outside you have more than 30°C.
Very tasty with a beautiful basil aroma.
And it's also very light, especially for dinner.
You can keep it in the fridge and eat it whenever you want.
Feel free to share what wakes your senses this time of the year.
Cheers!
Related posts:
Quinoa with cherry tomatoes and mozzarella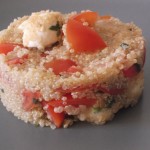 By Dalia Bonfanti Published: May 30, 2012
Yield:

2 Servings

Prep:

15 mins
Quinoa, cherry tomatoes and basil based
Ingredients
Instructions
Wash very well the tomatoes and basil leaves.

Chop the tomatoes in quarts and cut the quarts in half.

Mix the chopped tomatoes, the mozzarella balls.

Season them with oil and salt.

Chop the basil leaves and add them to the bowl and mix everything well.

Add the quinoa and mix well.

Serve it right away, or you can keep it in the fridge to serve later.

WordPress Recipe Plugin by ReciPress