This was a very busy weekend. It all began with a dinner at one of the best Japanese restaurants in Milan, Osaka.
My hubby and I usually go to Osaka in Winter to enjoy a warming bowl of Ramen along with their mouth watering Gyoza.  Then a stop for a glass of wine in one of the old Milan style Bottiglieria Moscatelli. It's a very simple place with a good list of wines and spirits.
Saturday night dinner was at our house with our friend "Sblob" and Sussy.
I made Roostblog tartlets which I will post soon. We also had a variety of cheese like Brie, Sardenian Pecorino and Taleggio cheese along with Amarone wine and Vin Brule' (mulled wine) jelly.
The king of the dinner table was the blue goat cheese crusted filet with Port wine sauce. I prepared sweet snap peas with thyme and fried sage leaves. To end the dinner with sweetness we had my chocolate souffle with a melted heart (i cooked it a bit longer s the hear was not melted) and Sussy's cheese cake (I really loved and ate a lot of slices).
Sunday night one of our friends turned 50 and he had a arty in a little cascina (farmstead) Cascina Castelletto near Pioltello, and enjoyed food, wine and one of the best jazz music led by Tino Tracanna (great Italian saxophonist), he was with his jazz class students who played wonderful jazz classics, and led me to the discovery of Horace Silver's Señor Blues.
On Monday I had a wonderful surprise and a gift, but this need a dedicated post, so wait for the next one to hear all about it.
Inspired by: Allrecipes
Photos: Susanna Clerici
Related posts:
Blue goat cheese crusted filet with Port wine sauce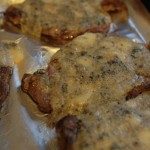 By Dalia Bonfanti Published: June 5, 2012
Yield:

4 Servings

Prep:

15 mins

Cook:

20 mins

Ready In:

35 mins
Beef filet and blue goat cheese based
Ingredients
Instructions
Melt the margarine. Add the minced garlic and the bay leaf. Cook until the garlic browns a bit and add the beef broth. Stir well and add the Port wine. Boil until it reduces.

Turn the oven to 150°C. Sear the steaks on each side (3 minutes per side).

Mix the crumbled cheese and the almond flour. Cover the top of the filets with the mixture. And put the filets in the oven for 15 minutes.

Let them cool for a while and serve tem with the Port wine sauce.

WordPress Recipe Plugin by ReciPress