Castagnaccio is a cake made of chestnut flour. It is a perfect representation of Autumn.
I miss Autumn sometimes. The leaves on the trees changing colours and becoming golden, brown and red, it is such a magical transformation, a transition from Summer to Winter.
In Italy on those very cold days, street vendors start roasting and selling chestnuts.
Autumns equals roasted chestnut and I would always buy some. Hot chestnuts wrapped in a paper bag, warmed my hands and made me happy.
During the war period chestnuts were staple in an Italian pantry. There was food shortage, very harsh cold weather and transportation between regions was so difficult. So in regions like Tuscany, people started to use chestnut to make cake, polenta, bread and pasta.
Chestnuts fall off the tree when they are mature, so there was less labour involved, they just had to pick them up from the woods. This also meant that they didn't have to spend any money, mind you, during the war people were getting poor.
It is fascinating how behind every recipe there is a story.
Castagnaccio is a very simple recipe. It is gluten free, dairy free, sugar free and egg free. It is versatile, so depending what you put on it it can be eaten as as sweet cake or a savoury one.
If you want to make the castagnaccio sweet add 1 orange (zest and juice) and sultanas.
If you want to enjoy it as a savoury one, you can pair t with some salame, prosciutto, cheeses.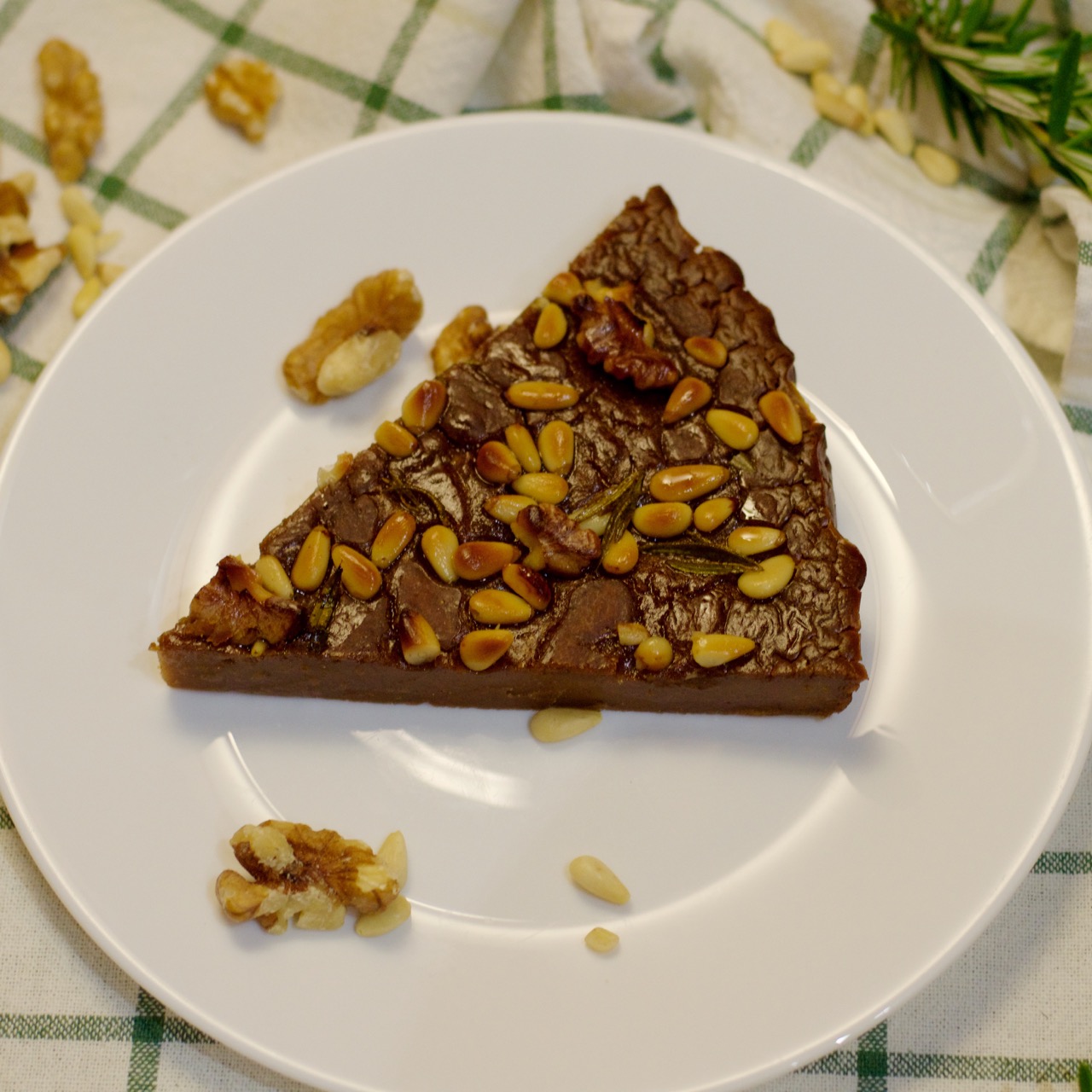 I made a rosemary and garlic oil a couple of weeks a go so I decided to drizzle that. But you can use any type of oil you like.
What is that special food that represents Autumn for you? Share in the comments.
Cheers!
This recipe was adapted from the book The Real Flavour of Tuscany by Lori De Mori & Jason Lowe
Related posts:
Castagnaccio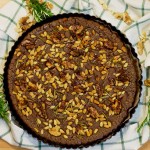 By Dalia Bonfanti Published: November 8, 2015
Prep:

10 mins

Cook:

40 mins

Ready In:

50 mins
Gluten free, egg free, dairy free and sugar free
Ingredients
Instructions
Pre-heat oven to 200ºC.

Mix the flour and water to smooth batter. Add the oil and mix well.

Brush a baking tray with oil. Pour the batter in it. Spread the pine nuts, walnuts and rosemary sprigs on the top. Drizzle a bit of oil and bake for 40 min.

When the cake is ready, cracks start to form on the top. Drizzle with a bit of oil before serving.

WordPress Recipe Plugin by ReciPress