A consommé is a clarified soup. It was one of my favourite soups in term 1 of culinary school. It is really difficult to make as the final product should have specific characteristics. If you follow each step very carefully and really be patient with it you will nail it. The taste of this soup is so strong and beautiful. I haven't seen it in the menus restaurants offer these days. I can imagine it to be served as an entree in a fancy tea cup.
It can be made with any stock (beef, chicken, game or fish).
You can serve it as is or with various garnished:
brunoise of cooked vegetables Consommé Brunoise
julienne of cooked vegetables Consommé Julienne
savoury crepes julienned Consommé Célestine
poached egg Consommé Colbert
cooked broken small vermicelli Consommé au Vermicelle
The requirements are:
a clear aspect and not cloudy

free from fat (no fat floating on the top)
golden amber color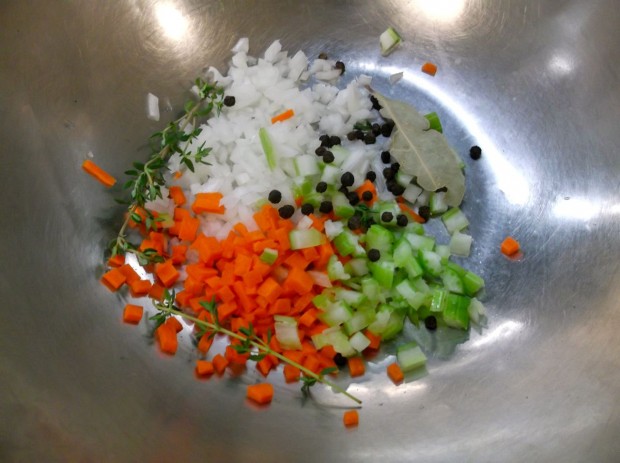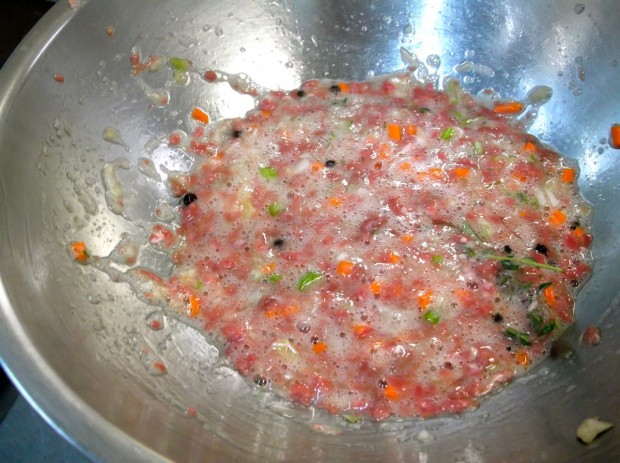 Tips:
Your best friend is your clarifying mixture i.e. egg whites. You need to really mix them well with the other ingredients. As they cook they coagulate and rise to the surface capturing all the fat and impurities with them.

Once the raft has been formed (the coagulated egg white mixture) you should not stir it anymore. If you stir it it will break down and destroy your best friend.
Once it boils you need to SIMMER GENTLY or you will destroy your best friend.
Once it is ready gently press down the raft with a ladle and spoon out the liquid and pour it through a strainer (cover with a muslin cloth) in a pot. NEVER POUR the soup directly in a pot you will destroy your best friend.
Related posts:
Consommé Ordinaire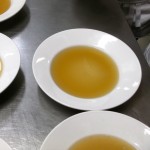 By Dalia Bonfanti Published: November 25, 2014
Yield:

1 litre (10 Servings)

Prep:

30 mins

Cook:

60 mins

Ready In:

1 hr 30 mins
clarified beef soup
Ingredients
Instructions
Whisk the egg whites with the 200ml beef stock.

Add to the rest of the ingredients and mix very very well using your hands.

Place a pan on the stove on a high heat. Once hot, place the onion (cut side down) onto the pan and let it brown.

Place the 1lt stock in a pot. Add all the ingredients and mix very well.

Bring to the boil. Stir (back and front movement and not swirling) the bottom. This prevents the mixture from sticking to the bottom.

Once it starts boiling stop stirring. Reduce the heat and let it simmer gently for 1 hour.

Prepare another pot. Cover a strainer with muslin cloth and plate it on the pot.

Push the raft with the bottom of the ladle and spoon out the soup. Pour it through the muslin into the pot. Keep doing this until the end.

Remove any trace of fat by dabbing a paper towel gently on the surface. Season with salt and serve.

WordPress Recipe Plugin by ReciPress