If I have to choose a dish that was the highlight of everything we prepared in Term 2 it would be the Crêpe Suzette.
It is very hard to find it on the menu in restaurants these days. Which in my opinion is a shame! I really think it is a great dessert and the idea of a maitre preparing it flambé at the table would be theatrical and superb. Most restaurants lack the staff that is willing to do this or simply they try to avoid because it represents a hazard. The ceremony may set someone's hair on fire or worst set on fire the whole restaurant.
Crêpes should be thin and light and to get this texture it is very important that you stick religiously to the quantity the ingredients and you must rest the batter.
It was very hard to get them thin but the more you practice and the better you will get.
Try to make them for a special occasion which doesn't necessarily have to be St. Valentine's or Birthday. It can be any other day of the year, you can make it for yourself because you deserve to be celebrated. Try to sit and think of all the extraordinary things you have accomplished. You deserve a beautiful dessert!
Celebrate your loved ones just for the fact that they are in your life. You don't need an occasion to show your appreciation.
Cheers!
Related posts:
Crêpe Suzette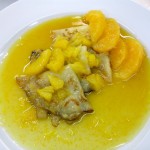 By Dalia Bonfanti Published: November 27, 2014
Yield:

4 Servings

Prep:

60 mins

Cook:

20 mins

Ready In:

1 hr 20 mins
If I have to choose a dish that was the highlight of everything we prepared in Term 2 it would be the Crêpe Suzette. It is very …
Ingredients
Instructions
Mix oil, milk and egg. Whisk until well combined.

Add the sifted flour, sugar and salt. Whisk in the melted butter. Pass through a sieve to avoid any lumps and get a smooth batter. REST the batter in the fridge for 1 hour.

Once the batter is rested heat a crepe/pancake pan. Brush the surface with the melted butter (enough to coat).

Cook the crepes. You need to control the heat and to be quick. Once they are all cooked stack them and keep them warm.

Melt the butter in a pan. Add the sugar and caramelize.

Flambé with the cointreau and brandy.

Once the flame is out add the orange segments, the zest and juice of the orange and lemon. The sauce should be thick.

Fold the crepes in half and fold in half again (you will get a triangle shape). Add them to the pan for a couple of minutes. Plate and enjoy!

WordPress Recipe Plugin by ReciPress