The weather has suddenly changed in Milan. It's as if suddenly November is here. Temperature has gone from 35°C to 20°C and it has been raining a lot.
I must admit that I missed the cooler season for a lot of reasons even though I don't enjoy rain that much.
Truth: I love it when it rains in the middle of the night while I am sleeping, it relaxes me more.
Rainy days, just put me in a melancholic mood as they bring back memories from Ethiopia.
In the rainy days we use to fire up some charcoal and we all would sit around it and chat a lot;
We would roast fresh corn, or we would boil it and enjoy it with the family;
When I was a kid, if during a sunny day suddenly rain would fall, I used to stuck my thumb out as a sign of a baptism to a new born hyena.
On Saturday morning we went to the Chinatown to get sweet potatoes and edamame beans. Both are very rare to find in Italian supermarkets. In Chinatown we usually go to Kathay, it's an international shop (Asian, South American etc), we love going there when we need asian produce and we have always been satisfied with the quality.
They are sold frozen as it's hard to grow them here, they were delicious.
Cheers!
Related posts:
Edamame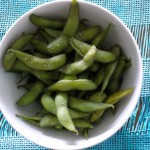 By Dalia Bonfanti Published: September 2, 2012
Yield:

2 Servings

Prep:

5 mins

Cook:

7 mins

Ready In:

12 mins
Edamame
Ingredients
Instructions
Boil the edamame in a large pot covered with water for 7 minutes or until they are tender. After 5 minutes take one out and check.

Drain the edamame. Serve them by sprinkling some salt on them. They don't need a lot of salt as they are so tasty.

WordPress Recipe Plugin by ReciPress