Hi all,
October has been a very interesting month. My hubby had a precious opportunity to work with Jun, an engineer from China who came to Italy to work for a month.
We had fun going around Milan, especially eating new food.
I also had an opportunity to go on the roof of Duomo (we took the stairs, and I admit that after a few of them I asked myself WHY I WAS DOING IT).
It's so beautiful and it's worth all the stairs. You see all the statues, decorations, etc.
One statue that I couldn't understand was the duck (angel or demon?).
I also had an opportunity to meet Stephanie, this beautiful and bubbly girl, who introduced me to matcha tea and coconut oil.
Audax of Audax Artifax was our November 2012 Daring Cooks' host. Audax has brought us into the world of brining and roasting, where we brined meat and vegetables and roasted them afterwards for a delicious meal!
This was the first time I brined anything, and I chose to do it with chicken.
I realized that brining just makes the chicken so moist and tender and you won't need  to add any fat. And this makes it healthy too.
We had brined chicken with roasted carrot (I used coconut oil, and the aroma and taste was absolutely delicious) and mustard fruit.
Audax – thank you so much for the challenge and for sharing your family recipes with all of us.
Cheers!
Related posts:
Brined Chicken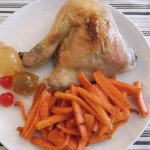 By Dalia Bonfanti Published: November 14, 2012
Yield:

2 Servings

Prep:

60 mins

Cook:

1 hr 5 mins

Ready In:

2 hrs 5 mins
Chicken based
Ingredients
Instructions
In a non reactive container heat the water. Mix in the salt. Let the water cool. Add all the rest of the ingredients and the chicken thighs. Cover and place in the fridge for 1 hour (you can also keep it for 2 hours but not more)

Turn the oven to 200°C. Dry with kitchen paper the thighs (if you have plenty of time, you can air dry them). Cook the chicken for 15 minutes. Turn the oven to 180°C and cook for 40 minutes. One trick to know if your chicken is cooked is to insert a knife in the meat, take it out and place it on your palm. If it's hot than it's ready. If it's cold, it means it's not cooked, because the heat hasn't reached the center of the meat. Or use the thermometer.

Let the chicken rest for 10 minutes and serve.

WordPress Recipe Plugin by ReciPress