Rachael of pizzarossa was our August 2012 Daring Cook hostess and she challenged us to broaden our knowledge of cornmeal! Rachael provided us with some amazing recipes and encouraged us to hunt down other cornmeal recipes that we'd never tried before – opening our eyes to literally 100s of cuisines and 1000s of new-to-us recipes!
I joined last month and this is my first challenge. I must say that I really love it, as I love challenges.
I must say that it was a beautiful coincidence that the challenge was about cornmeal as my blog is about wheat free recipes.
I loved all the recipes that Rachel listed and prepared, and I will try to make them someday soon.
I prepared Sbrisolona, its an Italian cake and its' origins are from the city of Mantova. You can say that is a crumble without the fruit. It's delicious, crunchy, easy and quick to prepare.
Today in Italy we celebrate Ferragosto, it's like celebrating the end of summer. A Lot of people are on vacation and Milan is like a haunted city, EMPTY!!!
I want to wish a happy Ferragosto to everyone!
Cheers!
Ps: I can't wait for the next challenge

Related posts:
Sbrisolona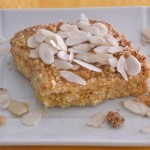 By Dalia Bonfanti Published: August 15, 2012
Yield:

6 Servings

Prep:

15 mins

Cook:

30 mins

Ready In:

45 mins
Cornmeal based
Ingredients
Instructions
Turn oven to 180°C.

In a bowl mix with your hand the cornmeal, sugar, the chopped almonds and the zest. Add the butter and mix really well.

Butter a stamp, and fill with the mixture. Spread and press with your hands.

Bake it for 30 minutes at 180°C. Once it has cooled decorate it with the sliced almonds or with icing sugar.

WordPress Recipe Plugin by ReciPress