This recipe has been handed to me by my friend, Sussy. We participated  to a cupcake course together. She has the passion for cooking and her dream would be to have the Kitchen Aid.
I think she is a beautiful person, with a transparent and strong personality. She has a talent in photography, here it is.
Ever since she discovered about my blog and my passion, she has been supporting me and pushing me forward. And I am thankful for her support and I will cherish all the wonderful gifts she gave me.
I changed some ingredients of the original recipe (substituting flour with almonf flour and butter with seed oil).
The preparation was quick and the cake turned out really delicious. It may crack a bit on the top, but don't worry, nobody will pay attention thanks to the wonders of the taste.
And enjoy this special cake with a special person.
Cheers!
Related posts:
Choccy Cake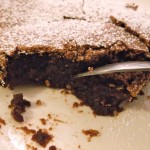 By Dalia Bonfanti Published: May 21, 2012
Yield:

10 Servings

Prep:

10 mins

Cook:

20 mins

Ready In:

30 mins
Chocolate and egg based
Ingredients
Instructions
Turn the oven to 180°C. Melt the chocolate. Beat the eggs and the sugar until well combined. Add the oil a bit at a time and the salt.

Add the chocolate and beat well, then add the almond flour. Cover your stamp with a little bit of butter and pour the mixture in. Bake for 20 minutes.

Once ready, let it cool down and powder over the icing sugar or the cocoa powder.

WordPress Recipe Plugin by ReciPress