For the first time I used the silicon stamp for this cake. I have to say that these stamps are very easy to use. And you don't need to butter your stamps or cover them with baking sheet. And it is so easy to pop out your cake once they are baked.
Today I want to thank all the people who have been enthusiastic about this blog and those who sustain me.
I really changed a lot from the original recipe, though some day I would like to taste it.
Choccy-cheers!
Related posts:
Wheat free date cake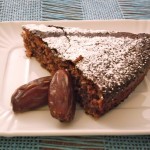 By Dalia Bonfanti Published: May 24, 2012
Yield:

8 Servings

Prep:

15 mins

Cook:

30 mins

Ready In:

45 mins
Hazelnut flour and date based cake
Ingredients
Instructions
Turn the oven to 180°C.

Melt the chocolate in a saucepan.

Chop coarsely the dates.

Beat the eggs and add the sugar a little bit at a time. Add the chocolate and the flour and mix well.

Add the dates and mix.

Pour the batter into a stamp and bake for 30 minutes at 180°C.

Once it has cooled down, sprinkle on top the icing sugar and serve.

WordPress Recipe Plugin by ReciPress