I have to say that my day was a bit busy. During lunch break, Sussy and I had to run to the shop to get inspired and buy things that would have helped me with my photos.
And tonight I had an aperitivo with my friend Gracey, thanks to her I discovered a wonderful place in Milan. It's Globe Restaurant and Lounge Bar, they accept booking for 4 people or more, so if you are going with a friend or lover don't worry you'll surely find place. They have a veranda, where you can occupy the table for an hour and half and you get this breath taking panoramic view of Milan. They are so gentle and kind. The buffet aperitivo costs €10 or if you prefere the one with fish then it's €15. I have to say that everything in the buffet was fresh and tasted so good, the drinks list was packed of really inspired cocktails and a well chosen list of wines and beers. The waiters were so kind and professional.
So after a glass of wine and a long ride home, here I am baking and posting. For day 3 I have decided to use cocoa powder.
Choccy-cheers!
Related posts:
Wheat free cocoa muffin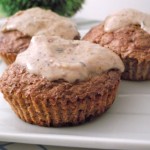 By Dalia Bonfanti Published: May 23, 2012
Yield:

18 muffins

Prep:

10 mins

Cook:

20 mins

Ready In:

30 mins
Buckwheat flour, hazelnuts and cocoa based.
Ingredients
Instructions
Crush the hazelnuts. Turn the oven to 180°C.

Beat the eggs and add the sugar. Add the oil a bit at a time and then add the cocoa powder. Add the crushed nuts.

Fill stamps to 1/2. I really had a hard time filling the stamps, so a lot of them were not regular sized.

Bake for 20 minutes at 200°C.

Once they are cool, put a teaspoon of cream on top.

WordPress Recipe Plugin by ReciPress