This is definitely  a heart warming and melting dessert. We loved this dessert that we had it for breakfast the next day. It's so easy and quick to make, just be careful on the cooking time, or the heart will dry out. Once it dries it will turn out to be a simple souffle, which is not bad. But that's not the result we wanted to obtain.
Sorry for the pictures, next time I will post on another picture where you can see the heart of the souffle.
Related posts:
Chocolate souffle with a melted heart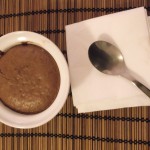 By Dalia Bonfanti Published: February 15, 2012
Yield:

2 Servings

Prep:

15 mins

Cook:

15 mins

Ready In:

30 mins
Chocolate and egg based.
Ingredients
Instructions
Melt the chocolate and the butter together and put them aside. Turn your oven to 150°C.

Beat the egg with the sugar and the vanilla extract, until they become fluffy and a bit dense.

Add the chocolate and mix well. Then add the almond flour.

over the inside of two small stamps/ramekins with butter, then add the mixture. Make sure you fill them at about 90% or everything will burst out. Put them into the oven for 15 minutes. The mixture will rise and dry in the outside.

Let it cool for 10 minutes and serve. You can put on top cocoa powder or confectioner's sugar.

WordPress Recipe Plugin by ReciPress