Thanks to my hubby, I discovered Foodbuzz. And thanks to Foodbuzz I am able to connect with a lot of people, all around the world,who share the same passion for food and cooking.
I connected with Abby, Manila Spoon, I have to say that I love her recipes and so I decided to try.
I made her Salmon on a bed of Caramelized Onion. I used fennel seeds instead of dill weed, as in Italy you don't always find herbs that aren't typically Italian herbs (basil, parsley, mint etc).
We loved it, it's a perfect match and makes a wonderful dinner for two.
Cheers!
Source: Manila Spoon 
Related posts:
Salmon with Caramelized Onions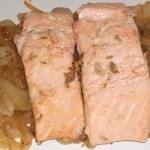 By Dalia Bonfanti Published: July 17, 2012
Yield:

2 Servings

Prep:

5 mins

Cook:

30 mins

Ready In:

35 mins
Salmon and onion based
Ingredients
Instructions
Slice the onions and saute them in a pan with the 2 tbsp of oil. Saute them until they become brown (about 15 minutes). Then set them aside.

I prefer seasoning meat and fish at the end and not before cooking them. But feel free to do so. Return the same pan on the stove, add 1 tbsp of oil and cook the salmon 2/3 minutes per side. Put aside the salmon and season with the fennel seeds, salt and pepper.

Bring back the onions to the pan and cook for another 5 minutes and add the white wine and let the alcohol evaporate. Season the onion with salt and pepper.

Serve the salmon on top of the onions.

WordPress Recipe Plugin by ReciPress