This year my college invited culinary students to participate in teams at the Oceanafest, a cooking competition for chefs.
I am not a competitive person, but I love a competitions just for the fact that it is a great way to get feedback for what you do from judges (strangers) who have no clue of who you are.
I knew right away who was going to be perfect for our team. It wasn't easy but at the end we made up our team and researched hard core for our menu.
For our live cooking we had to produce 1 entree, 1 main and 1 dessert, each for 2 portions. With 3 people in the team and each one dedicated to one course.
And Hear Ye, Hear Ye!, I landed the dessert, or shall I say the dessert landed on me. It is not my forte


We had 30 minutes to set up, cook, serve and clean. No pressure!!!
So research after research I thought that I could make a panna cotta. Very quick preparation, I thought I could set it with a chill blaster.
Now let's get down to work. My house was filled with panna cotta for almost a week, I made them in different ways, till I got them right. But long story short, we ended up not making the panna cotta at the competition. Tune in next week to find out the rest of the story about the competition? Can you guess what I made as dessert? Alright, Alright I will give you a hint, or two….hmmmmm chocolate and orange. Write your guess in the comments below 😉
What is Panna Cotta? It really translates into "cooked cream". I am a food nerdie and I love to research the origin, the why's and the when's and the who's behind a recipe. So although my recipe here for competition purposes uses gelatine, I found out that in the traditional recipe, gelatine wasn't used at all.
Now there isn't an accurate story of where panna cotta was invented, but roaming around here and there, I discovered that it comes from a region in Italy, Piemonte.
My other question was, why is it called "cooked" when we actually never cook the cream, but just warm it up to be able to dissolve the gelatine.
I found out that traditionally, in fact, panna cotta is cooked. It is thickened with egg whites (not gelatine) and cooked in water bath (like creme brûlée) in the oven on low temperature. I haven't yet made it this way, but I will soon make it and let you know the differences.
The texture of the panna cotta is like a light custard. And it is very versatile, can be complimented with a caramel sauce, fresh fruits, berry coulis and basically anything you may fancy.
At the time, at the Subiaco markets, I found beautiful Tamarillo.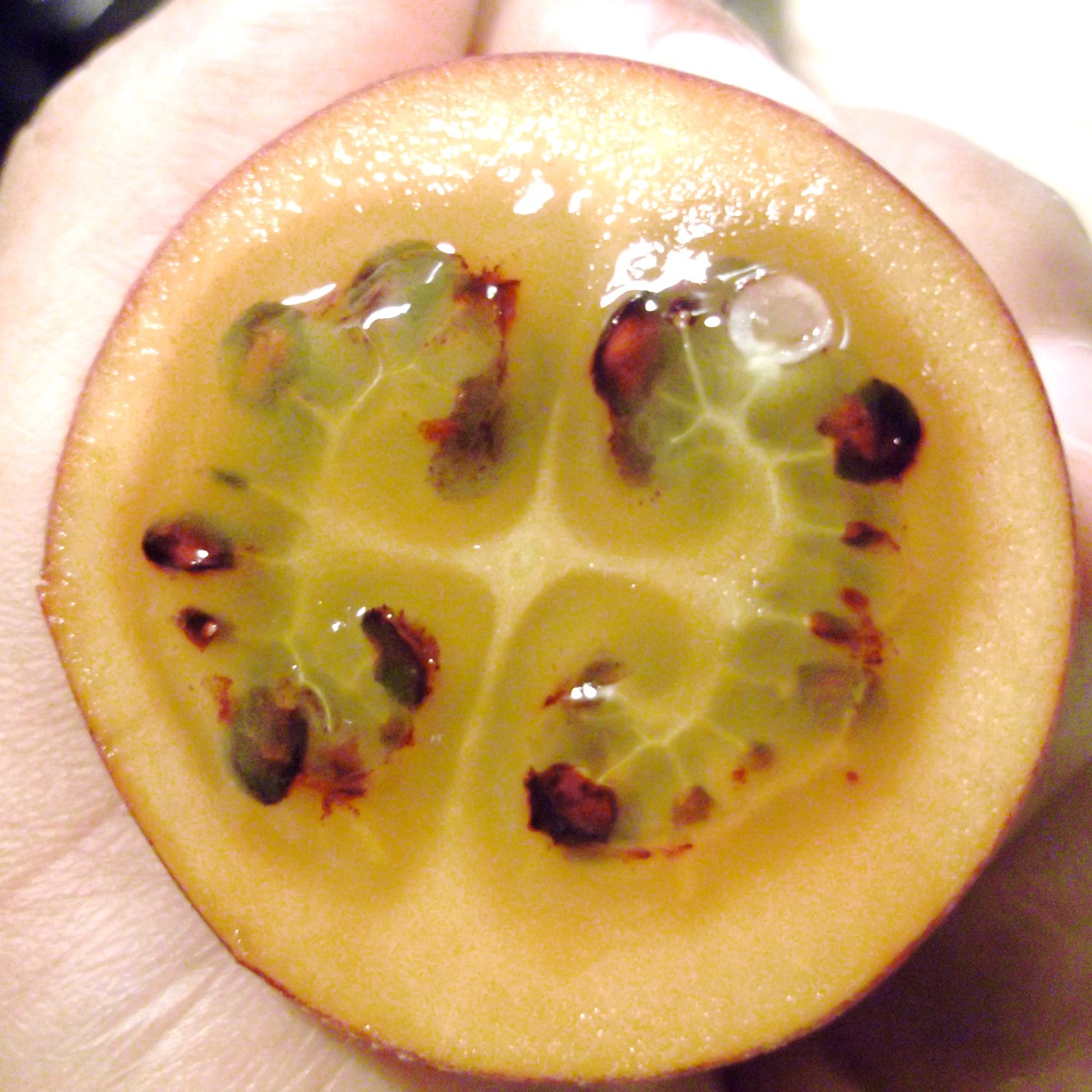 Tamarillos are like and egg shaped tomatoes, they are absolutely beautiful. They have a thick skin and when you cut through them, they have this gorgeous, yellow pulp with blackish seeds.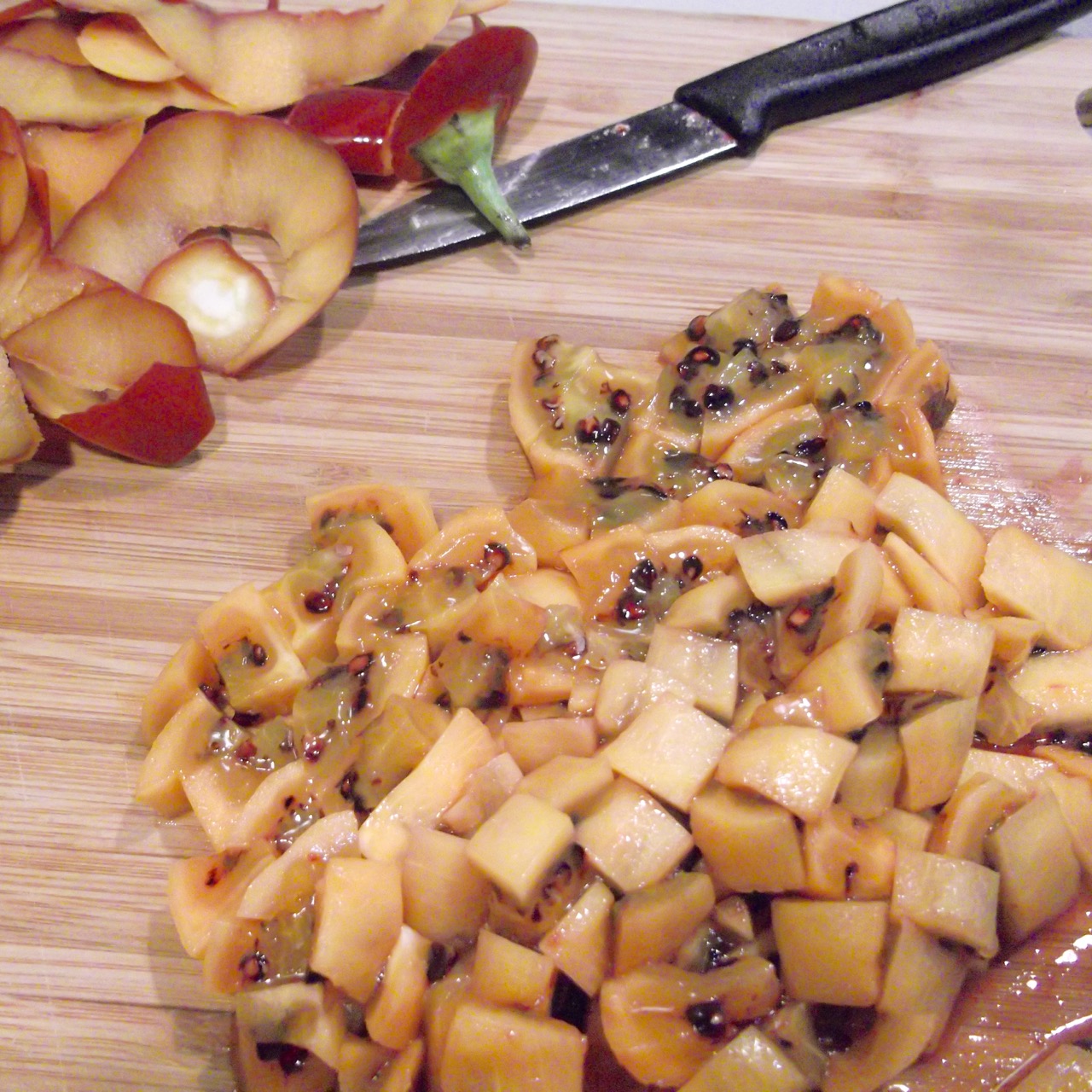 The taste is sweet kinda tart. So this recipe is an alchemy between the union of a sweet panna cotta with a tart tamarillo compote.
Check out the ode of Shuna Fish Lydon to this fruit on her blog
Cheers!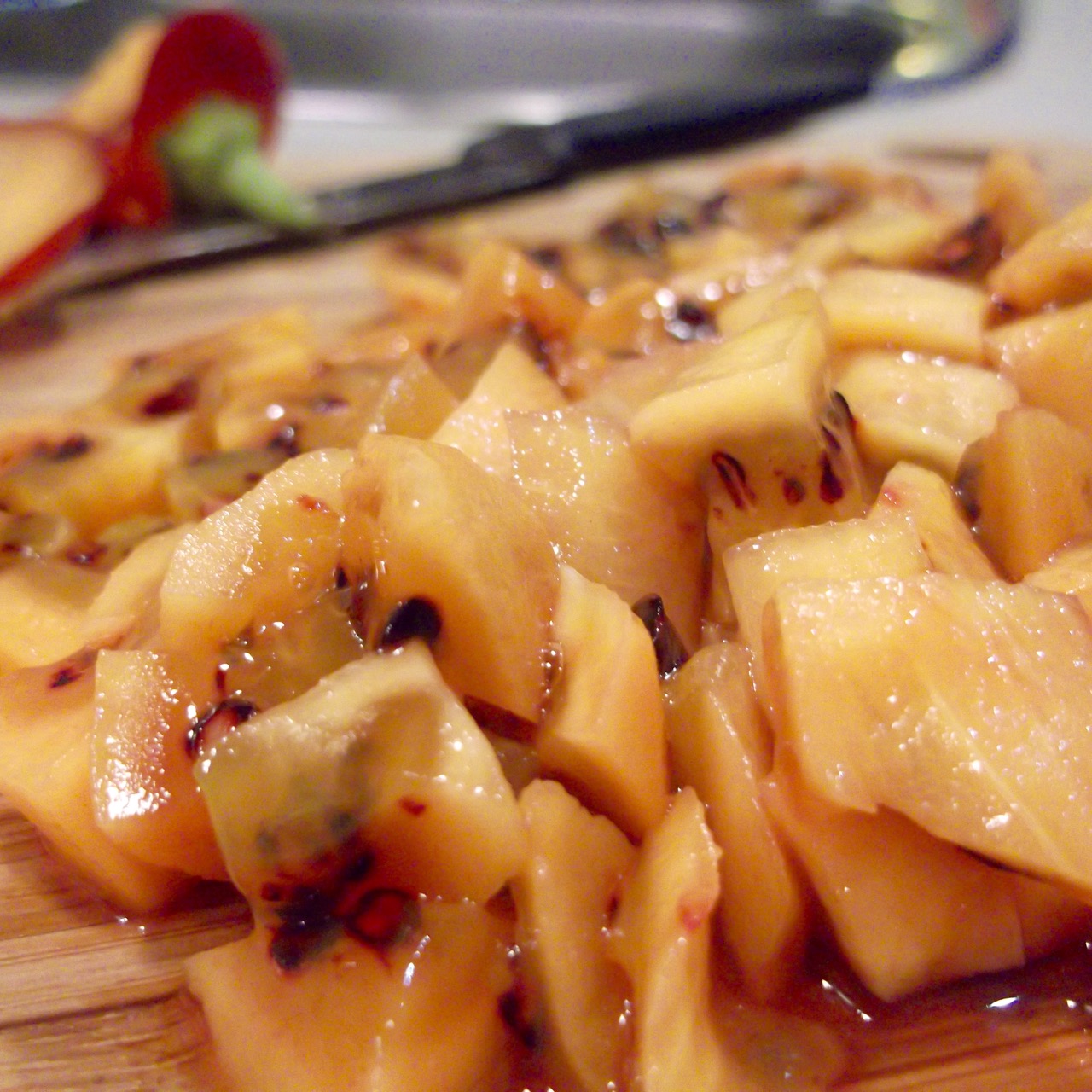 Related posts:
White Chocolate Panna Cotta with Tamarillo Compote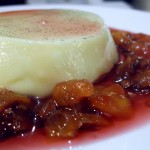 By Dalia Bonfanti Published: October 9, 2015
Yield:

4 Servings

Prep:

15 mins

Cook:

30 mins

Ready In:

4 hrs 45 mins
An alchemy between the union of a sweet panna cotta with a tart tamarillo compote.
Ingredients
Instructions
Cut in half the vanilla pod and scrape the seeds, place the pod and seeds into the cream. Add the sugar and warm it.

Soak the gelatine leaves in a cold water, to soften them.

When the cream is warm add the white chocolate bits and stir well, until it is all melted. Strain the mixture in another container (to remove the pod and other unwanted bits).

Squeeze the extra water from the gelatine. Mix into the cream until well dissolved.

Spray your mould with a little bit of vegetable oil (to make the un-moulding process a lot easier). Fill them with the panna cotta mixture. Set it in the fridge for 4 hours (more than 4 hours is much better).

In a pot add the diced tamarillos and sugar. Let it cook on medium-low temperature until it thickens. Take off the heat and let it cool down before using it with the panna cotta.

WordPress Recipe Plugin by ReciPress