These fritters were a wonderful discovery. I have used the chickpea flour to make an Italian flat bread, Farinata di Ceci (I will post soon a recipe).
But I really haven't thought of making any other recipe. Anyways I came across the Panella recipe in the Saveur magazine.
I followed all the instructions and yet It didin't get solid. So I decided to scoop out the batter and fry it in the oil.
And guess what, they turned out perfect!
This decision I made and the result were very significant for me, as they are the signs of the beginning of maturity. Let me explain.
There wee times in which a recipe just didn't turn out and I would get furious and throw everything out. I sometimes did the recipe again, but other times I would give up.
These fritters are so easy to make and so light to eat. They would make a perfect snack for kids too. If you happen to have kids, please try these and let me know. I often think about kids with Celiac disease or are gluten intolerant, and how sometimes is hard to find recipes to prepare meals and snack for them. I hope that this blog will contribute along other blogs, to help parents prepare snacks, cakes, sweets etc that their kids can enjoy, and satisfy their cravings.
We ate the fritters with artichoke purèe and Sgroppino cocktail.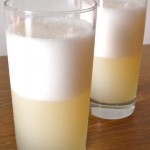 Cheers!
Related posts:
Chickpea Fritters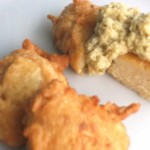 By Dalia Bonfanti Published: July 15, 2012
Yield:

10 fritters (2 Servings)

Prep:

45 mins

Cook:

6 mins

Ready In:

51 mins
Chickpea flour and rosemary based
Ingredients
Instructions
In a saucepan mix the flour, salt and water. Put over a stove and cook for about 15 minutes stirring constantly as it will get thicker.

Combine the rosemary and stir well. Let it cool for about 30 minutes or more.

Heat the oil in a saucepan. Scoop the batter and drop them in the oil. Fry 3 minutes for each side or until they turn brown and crunchy. Drain them from the excess oil on a paper. And serve them warm.

WordPress Recipe Plugin by ReciPress