I want to share a little story with you and the reason I craved and prepared this soup.
My mom's family have a Yemen background hence they are mostly muslims. And my childhood is filled with so many beautiful memories around them.
When I was 10 yeas old, I asked my dad if I can go and live with my auntie and cousin who lived in Jeddah, Saudi Arabia. My mom passed away when I was two, and the only motherly figure I had were my grandma, aunts and all my cousins (for some reasons are 90% women). After my mom passed away, they all migrated to Jeddah, and would call and visit regularly.
I still don't know how my dad agreed to that strange request (I was so close to him that it was always a drama for me to have a sleepover away from home), but he did and my aunt and cousin were so thrilled.
The year 1994, brought two major changes in my childhood. One of them was the death of my beloved grandma Sofia, she was suffering from diabetes for such a long time. After the funeral and all the ceremonies around it, my second change was about to happen. I was ready to take off on m new adventure in Jeddah. Meaning that after 10 years, in which I lived and interacted with 2 males, my dad and brother, I would be entering a new wold made of lots of women.
I was extremely excited about everything, my first airplane flight, new language, a new city…
Jeddah was so hot and humid compared to Addis Ababa and so different. A lot of tall buildings, very sandy landscape, with palm trees everywhere. Women can't drive in Saudi so I don't remember if someone came to pick us ip or we took a taxi. Taking a taxi is very common.
My new home was so beautiful, my aunt had a very elegant taste and the house reflected her personality. We had 2 bedrooms, 2 living rooms (arab style and western style), 1 bathroom, a kitchen and so many balconies. And obviously air conditiones were everywhere.
I remember that Ramadan was right after we arrived. And it was my favourite month. In order for me to learn to read and write Arabic, an Egyptian lady (neighbour) use to come everyday to teach me the Quraan and would bring a lot of short story books in Arabic. I always loved reading and she got me hooked and I learned really quickly. I stayed in Jeddah for nearly 2 years, and even went to school there. It was kind of Lebanese boys and girls school. Traditionally schools are gender separated. I met a lot of people and made really good friends.
Ramadan is a special month where all muslims must fast during the day (except the elderly, ill people, pregnant women and children). I remember that because everyone fasted in the house, I decided not to have a different treatment because I was a child so I fasted just like everyone.
The breaking of th fast occurs at sunset and it concides with Maghrib which is the 4th daily prayer in Islam. Because you haven't taken no fod and water all day, the fast is broken with a glass of water and dates. After the prayer everyone gathers around and share a meal. Iftaar is the breaking of the fast.
Ofcourse after a whole day fasting, my favourite moment would be the Iftar when we actually wuld eat. And yet, the moment I longed for was the preparation of Iftar meals. Some components of the meals were actually just prepared in Ramadan. I Oatmeal and Chicken Shorba, Khamir (fried dough), Sambusa (Samosa), Falafel, Salta (meat stew), Kabsa, Ful and for sweet tooth like me, Mahalabia (milk pudding) and sweet rice pudding, Baklava…We never had fish during Ramadan, probably because fish makes you thirsty, and that definitly something you don't need when you can't have any liquids during the day and risk dehydration.
I really enjoyed my stay in Jeddah. The lifestyle in general was way beyond my immagination. Big and beautiful shopping malls and souqs. The Souqs are street markets, they are very crowded and well assorted. Everyone would go shopping at night and shops are open till 1 or 2 AM, thanks to the mild temperature. The stalls are well lit, and you can find spices, crockery, clothes, perfumes, sandalwood and mhyrr, jewellery and so much more.
I also remember going to Mecca and Medina with my auntie and my great uncle "Aggho" , that's how we named him (abbreviation of Aggot – uncle in Amharic) for their Umrah.
Whenever I crave a dish I had when I was a kid, I try so hard to find the recipes, even just one ingredient is usually enough for my research. When I find the right recipe, then it is all about finding the right ingredients, preparing and sharing with hubby. It is amazing the emotions that the smell, the taste or the sip can stirr.
This soup is very rich and hearty. Very quick to prepare and with few and simple ingredients. I find the pieces of dates and a squeeze of fresh lemon juice bring out the flavours of all the spices and the chicken.
Cheers
Recipe adapted from Yasalam Cooking
Related posts:
Oatmeal and Chicken Shorba (Soup)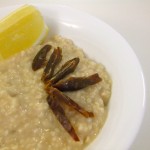 By Dalia Bonfanti Published: July 16, 2014
Yield:

4

Prep:

15 mins

Cook:

25 mins

Ready In:

40 mins
Hearty, quick and simple soup
Ingredients
Instructions
Heat the oil in a pan. Saute the onion and garlic until they are soft.

Add the chicken an cook until seared.

Add the spices. I forgot to buy the ground cardamom, which is better for this dish.

Add the oats. Mix well.

Add the chicken stock and stir well. Once it all starts to boil, lower the heat and let it cook covered for 25 minutes. Remember, the longer it cooks the better it will be. Just don't forget to stir and add water if it starts to stick to the bottom of the pan.

In the meantime, cut the lemons into wedges. Prepare the dates by cutting them into strips.

Once ready, pour in small bowl and enjoy while warm.

WordPress Recipe Plugin by ReciPress