I know that you are probably asking yourself why chicken feet. Because I love offals! They are very cheap to buy, they are packed with flavour, yes it takes very long to cook them and break down the protein, but trust me the end result is so worth that extra time.
I have never ever thought that chicken feet were edible till I came to Australia and had my first Dim Sum experience. I am not fussy, I actually love trying anything new (will see if this is true the day I will be presented with those succulent silk worms that Andrew Zimmern feasts on Bizzarre Foods). So to the surprise mixed with shock of my Vietnamese friend, I requested the chicken feet. From that day on I kinda promoted myself to the Chicken Feet Ambassador

There a few really really good places in Perth for Dim Sum but I learned that going there with my oriental friends makes things more interesting and fun. I recently went there with friends and classmates who ordered for us a lot (too much) of food I have never ever tasted before. I discovered that the sour beef stomach soup is soooo delicious and I had one bite of the custard buns, and OH MY CULINARY LORD, I was having an affair with that ouzy, eggy, decadent and yellow filling. And of course I confessed and introduced the Mr. Custard Bun to hubby. He approved this menage a trois 😉
But he didn't approve of joining me to eat the chicken feet. So if hubby doesn't go to the chicken feet, the chicken feet had to come to hubby.
I embarked on this journey of proving to him that they were delicious. I watched a lot of youtube videos, mostly in Chinese, but it was the best way to understand the method to apply for this task. And after hours of research, one weekend I went to Northbridge, and bought them (I wonder what the Chinese clerks who sold them thought of me).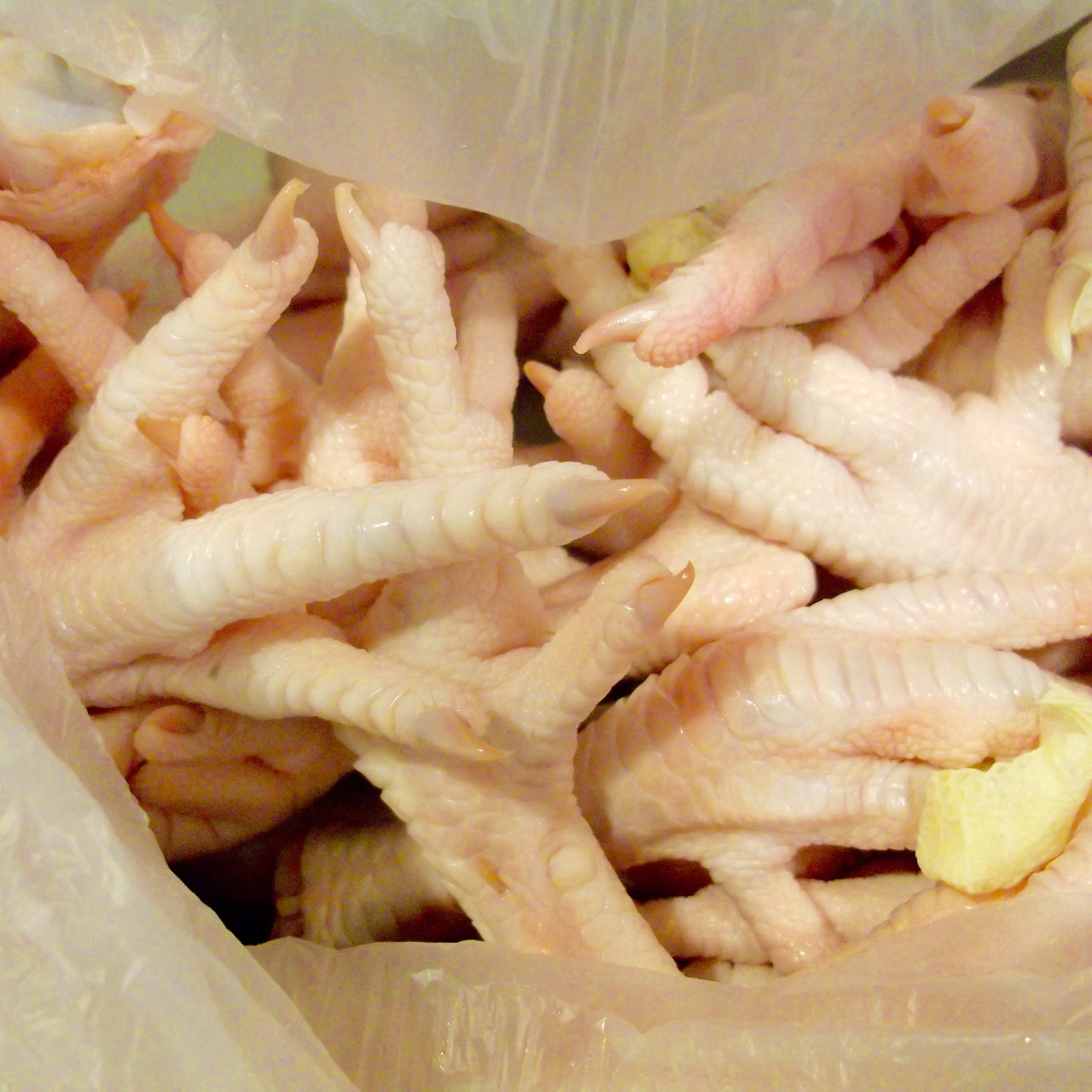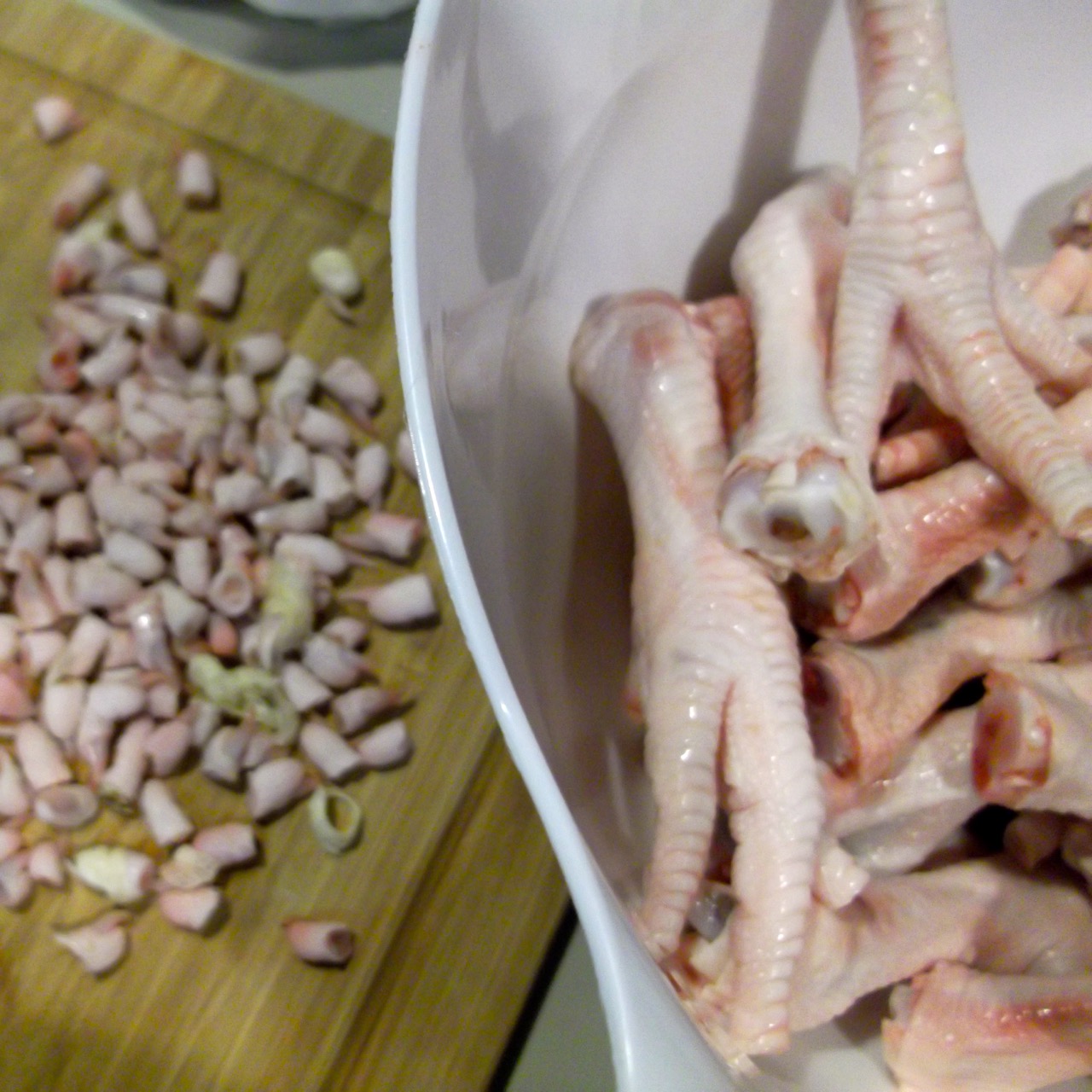 It didn't turn out exactly like the Dim Sum restaurant, and I wasn't expecting it to be the same. But it was an absolute success and most important, hubby loved it. Mission accomplished!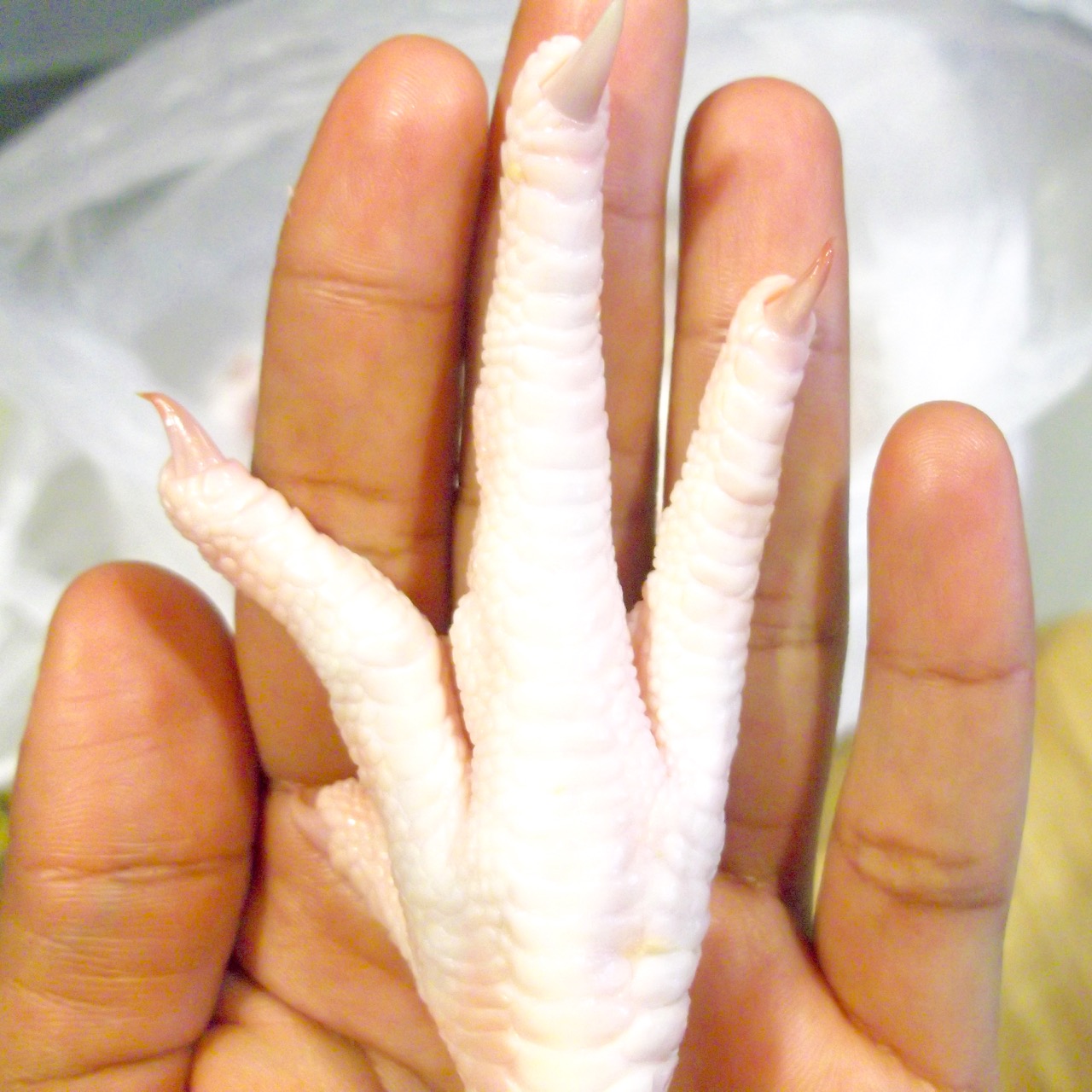 Sticky, salty, sweet and lip smacking chicken feet.
The black soy beans were the highlight of this dish. They are salty and yet a little bit sweet, they are the flavour enhancers of this dish, they are INDISPENSABLE!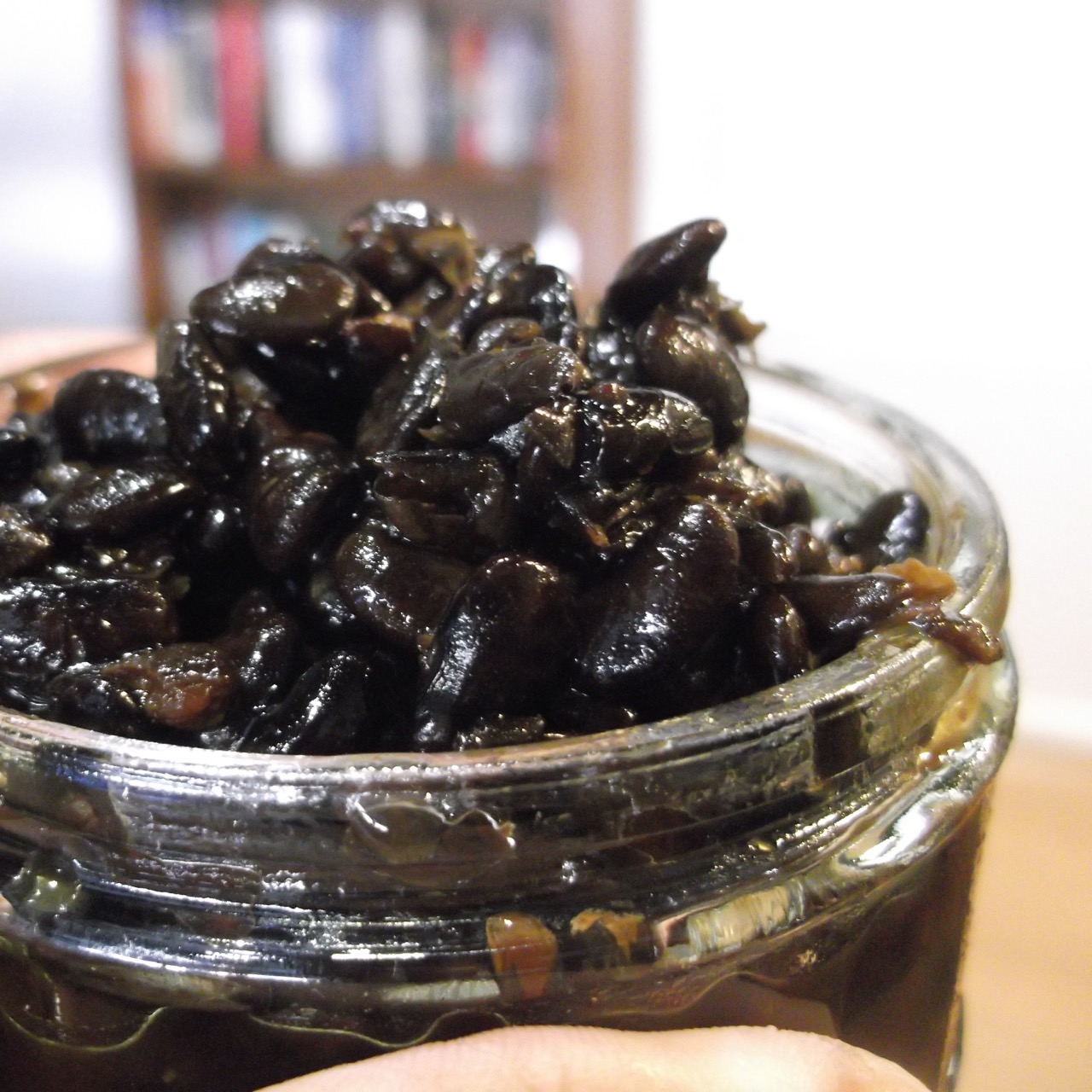 We didn't have chopsticks, so we actually dug in with our hands, like we were eating chicken wings.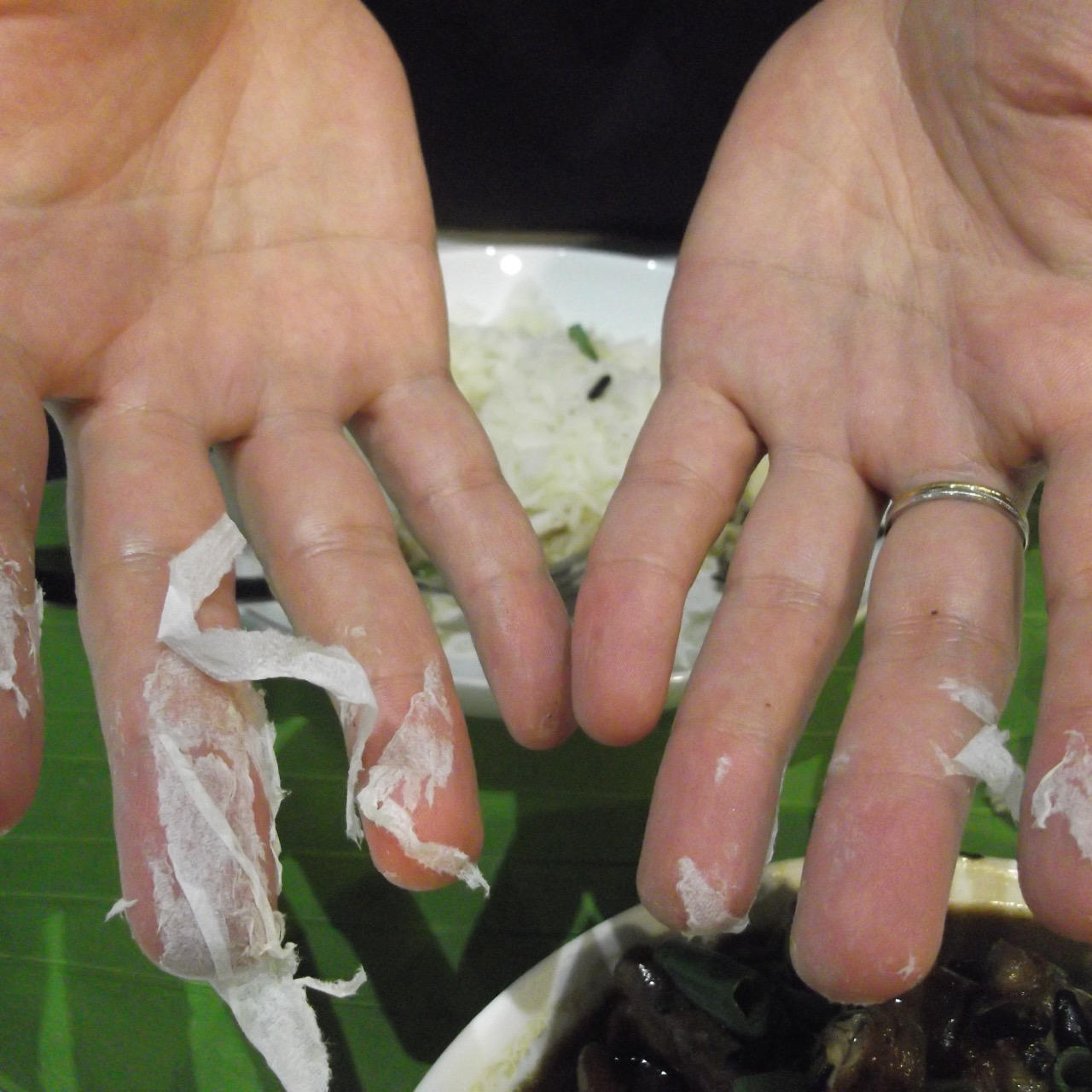 And I served plain, steamed rice which was needed for that delicious sauce. And a plus would be a chilled, cold bottle of beer

By the way, do you like chicken feet? What is your favourite food at a Dim Sum? I really want to know.
Cheers!
Ps: Don't forget to come back next week to read all the story of how the Oceanafest Competition went and my dessert recipe will be up with the post. Or subscribe and receive the update into your email

Related posts:
Chicken Feet in Black Bean Sauce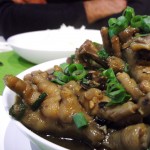 By Dalia Bonfanti Published: October 10, 2015
Yield:

6 Servings

Prep:

40 mins

Cook:

1 hr 30 mins

Ready In:

2 hrs 10 mins
I know that you are probably asking yourself why chicken feet. Because I love offals! They are very cheap to buy, they are packed with …
Ingredients
Instructions
Clean the chicken feet by cutting off the claws with a really good knife or kitchen scissors.

Remove any yellow skin.

Boil the chicken feet for 20 minutes. Place in cold water and drain. Pat them dry with a kitchen paper, this prevents the splattering of oil from deep frying them.

Deep fry them in batches until golden. This step is very important because it is like you are blistering the skin, creating tiny pockets to grab on all the flavours from the sauce. Remove and keep them aside.

Sautee the ginger, garlic. Add the chicken feet and the beans. Mix them well. Mix in the pot the sugar, soy saucem oyster sauce and water to cover. Let it boil first, then lower the heat to medium-low and cover the pot and let it simmer. Check if it needs water from time to time, and for tenderness.

Once the feet are tender, mix the corn starch with a little bit of water (no lumps please) and add it to the sauce and stir well. Let the sauce thicken and then remove from the heat.

WordPress Recipe Plugin by ReciPress