Let me start by saying that my two summer Cinema nights were absolutely stunning.
I was born in 1984, so I wasn't given the chance to watch The Blues Brothers when it was released for the first time in cinemas. And I also couldn't see Bob Marley and his movement.
So for all these reasons, those two days will always be cherished along the best occasions of my life.
The BB's music heard in a cinema is like an electric shock, it just shakes you all over. I was a bit surprised or maybe disappointed that the cinema was not full, rather it was empty. But me and my hubby had a wonderful time.
Marley is really a well done documentary. The cinema was packed of people of different age. I wondered if among them, there were those who attended his concert in Milan.
I hope that this doc. will change the mind and prejudice of those who think that Jamaica, Reggae, Rastafarian's and Bob Marley are all about smoking weed.
It's about life, philosophy, love and peace.
Bob Marley was a great musician with a great personality. And I dare those who judge him to respond and act as he did, to make speechs or bring nations to freedom and unity with only words and music.
By the way yesterday we had dinner at the Temakinho, it is a fusion of Japanese and Brasilian cuisine. You have temaki's and rolls in Japanese style and with a hint of Brazilian ingredients, along with Caipirinha and Brazilian dessert. It's like porn in your mouth and mind (some of you may be scandalized by this word, I can't find any word to better describe the sensation, so shoot me). The place resembles a beach side cafe where they seve fresh caught fish. It just took me back to the beaches of Santa Caterina, which I visited in 2006.  And the truth is, that you are in the most magical place in Milan (after Brera quarter), the Navigli.
Excellent quality, and the sign for this is not only the taste of the raw salmon and sea-bass, it was also the crunchy fresh fried shrimp and the very crunchy nori roll. Please do go to this wonderful place and always book in advance as it's fully booked almost every night.
Hope you enjoy my recipe.
Cheers!
Source: Martha Stewart 
Related posts:
Lime marinated Steak with Goat Cheese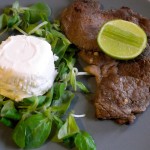 By Dalia Bonfanti Published: June 27, 2012
Yield:

2 Servings

Prep:

30 mins

Cook:

10 mins

Ready In:

40 mins
Beef steak, lime and goat cheese based.
Ingredients
Instructions
Put in small plastic bag (the one you use to refrigerate food). And combine the lime juice, soy sauce and garlic. Put this mix in the bag along with the meat and marinate for 30 minutes.

Heat a pan with the olive oil. Cook the steak 5 minutes per side.

Serve with the goat cheese and some salad.

WordPress Recipe Plugin by ReciPress