I discovered that on 26th of June the documentary about Bob Marley will be showed in all cinemas. And I have already booked the tickets and I will let you know about it.
I really appreciate his music and most of all his powerful words. Probably I have been influenced by my brother, who listened to him a lot, and growing up I somehow loved his music and as I became conscious of life, maturity and the world around me, I began to appreciate his vision and mission. Probably being born and growing up in the African continent, precisely in Ethiopia (promise land of Rastafarian), I feel somehow connected to his words. His encouragement through music, to all Africans to unite and stand together for their freedom.
From my point of view, freedom for Africans is not freedom from the Western/European colonialism or slavery.
Freedom to education, freedom from the slavery of competition with each other and freedom from the thought of being the third world, that needs charity over charity.
I believe that Africans have great potential as a continent to bloom, if they wake up and realize that they have everything to make their economy work. Oil in Nigeria, Sudan, Angola, and Equatorial Guinea; coffee and cotton in Ethiopia: precious minerals and metals such as diamond and gold in South Africa are only a few of the richness that this continent has.
Africans don't need charity but loan to reach their goal and be active in the growth of their economy. If you are interested in helping please visit KIVA, it an organization where you can loan money to a person as an investment in their business, and they will give you back the money when they start gaining. My hubby has done it and keeps doing it and the results are stunning.
Let's go back to the dish I am proposing to you, it has been inspired by Martha Stewart, I have made some changes to the ingredients and yet it turned out perfect.
It's a very quick dish, and it's really really delicious. Please try it and let me know!
I will leave you with a recipe of a delicious recipe and some of my favourite Marley's quote.
When one door is closed, don't you know that many more are open–from the song Coming from the Cold
Who are you to judge the life I live? I know I'm not perfect,and I don't live to be. But before you start pointing fingers, make sure you hands are clean – from the song Judge Not

Related posts:
Beef Steak with Red Onion and Olive Sauce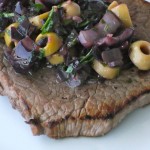 By Dalia Bonfanti Published: June 18, 2012
Yield:

2 Servings

Prep:

20 mins

Cook:

10 mins

Ready In:

30 mins
Beef, onion and olive based.
Ingredients
Instructions
Cook the onion and the garlic in a pan, over a low flame, for about 5 minutes. The onion has to be soft but still crunchy.

Mix the wine and the honey until they are well mixed. Then add the oil and mix very weel until it becomes thick.

Add the onion, garlic, olives and parsley. Mix well and add salt and pepper.

Cook the steak to your liking

Coat with the sauce and serve.

WordPress Recipe Plugin by ReciPress