I started reading the biography of Gualtiero Marchesi, the founder of the Italian Nouvelle Cuisine.
It's really an inspirational book.  It's about his life and his love for food and cooking.
My wish is to meet him, and why not, be able to dine at his restaurant.
My next recipe, is a tasty mistake. As I handle different flours contained in different boxes, I made a small mistake.
I used, by mistake, chestnut flour instead of quinoa flour to make  the focaccia.
At the end it turned out really delicious!
Perfect for an appetizer or as they call it in Italy "aperitivo".
Cheers!
PS: unfortunately I have been using olive oil lately, as the grape seed oil is not being delivered to the supermarket where we use to buy it.
Related posts:
Focaccia with Shallots and Basil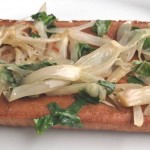 By Dalia Bonfanti Published: July 25, 2012
Yield:

2 Servings

Prep:

10 mins

Cook:

25 mins

Ready In:

35 mins
Chestnut flour, egg, shallots and basil based
Ingredients
Instructions
Beat the eggs with a pinch of salt. Add 1 tbsp of oil and mix very well.

Grease a plumcake pan with oil and pour the batter in it. Bake at 180°C for 25 minutes.

Add the chestnut flour to the egg mixture. Mix very well.

Put the remaining olive oil in a pan. Sautè the shallots for 5 minutes so that they remain crunchy. Turn off the heat. And add in the pan the basil. Season as you wish.

Once the focaccia is done, let it cool for 5 minutes. Put over it the shallots mixture. Slice in bite size and serve.

WordPress Recipe Plugin by ReciPress