Hi everyone,
I know that it has been a long time since my last post. And I am sorry for keeping you waiting.
I must say that I needed a break from all the crazy things that happened in the last month.
There are days when you feel that you absorb all the negativity happening in and around your life. And day by day you add a little bit of negativity and you drag everyday and night the weight of it. And when this happens you suddenly don't realize that your state of mind and humour is affecting the people around you.
Well, for me the turning point was when I realized that it affected my life with my hubby.
We met in 2004 and we have been married since 27 August 2011 (our 1st anniversary is near

), and after all the ups and downs of a relationship, we have come to a conclusion that beside the love we feel for each other, communication is what helps us kick all the problems in the a**.
Same thing this time, we talked, we cried openly about the problems and all that happened in this last month. We decided not to let negativity affect the life we are living. We promised each other a lot of the changes that each one of us will have to make.
And the sun just shone back on us.
Back to our recipe! This is a lemony and very suitable for summer dessert. I made a mistake of adding all the juice of 2 lemons and it was just so sour, so please don't make the same mistake.
Try it and let me know!
Cheers!
Source: Martha Stewart
Related posts:
Wheat Free Lemon Souffle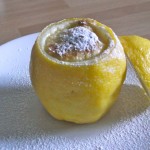 By Dalia Bonfanti Published: August 8, 2012
Yield:

2 (2 Servings)

Prep:

20 mins

Cook:

15 mins

Ready In:

35 mins
Lemon, and egge based.
Ingredients
Instructions
Pour the mixture in each lemon. And put them in the oven for 15 minutes.

Wash very well the lemons. Cut the lower part (where the stalk is)of each lemon (a little bit) just enough to flatten it. Cut the upper part (let say 1/3 of the lemon) keep it, you will use t as a decoration when serving.

Beat the egg yolks with the sugar until well blended and add the flour and the 3 tbsp of lemon juice.

Beat well the egg white until it's firm. Add to the yolk mixture.

Let them cool. Sprinkle a bit of icing sugar and serve them with the covering that you kept aside.

WordPress Recipe Plugin by ReciPress