What's the purpose of  a vacation to you?
For me it's a period of time that I dedicate to activities which I normally wouldn't do. Vacation is a period where I forget work and all that is related to it and I dedicate my time totally to myself, my husband, my home and my personal life. And if I get the chance to go to somewhere new, then it's a perfect vacation.
And when I return to work, I know that I am a bit different than who I was before the vacation and honestly I will be grateful for the person who had to take my place for that period.
One of the common behaviour I see around me these days is that people go on vacation, in the most beautiful places – Greece, Sicily, Caribbean seas etc. and they come back the same if not worse than when they left.
They are not grateful for the person who took their place and worked hard keeping up with their work and those of the person in vacation.
And they start to whine immediately.
Each day is a beautiful day, and today is different from yesterday and so on. We must be grateful for life, first of all. Enjoy as much as possible each day of our life. There's no need of spending a lot of money or energy. Just do something special everyday that can cheer you up and help you go through the day.
And try as much as possible to enjoy your vacation.
If you are single, be selfish and dedicate your time completely to yourself. Take time to walk, to think, to laugh, to love, to breath and dream.
If you are a couple, enjoy your partner, cuddle a lot, share your thoughts, make plans for the future, drink champagne, hold hands, kiss each other and make love.
If you have kids, than it's the perfect time to dedicate yourself to them beside of course your husband (go to point 2 for him). If you are a working parent, this means that you don't get enough time to spend with your kids. So take advantage of your vacation to play with them, to cuddle, to run your fingers in their hair, to smell them, to listen to what they have to say, to play, to create, to show them your love, to be proud of their achievements, to colour, to swim…There is no limits with kids, let them take the control sometimes, you will be surprised. (I must say that I am not a mom yet, but I love kids).
Enjoy your summer!!!
Cheers
Flora: thank you for the fresh rosemary and thyme.
Related posts:
Veal with Mushrooms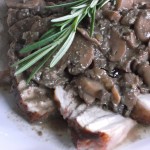 By Dalia Bonfanti Published: August 13, 2012
Yield:

2 Servings

Prep:

30 mins

Cook:

60 mins

Ready In:

1 hr 30 mins
Veal and mushroom based
Ingredients
Instructions
Turn the oven to 150°C.

Melt the ghee in a pan and sear the veal 3 minutes for each side.

In ana oven safe pan, put the olive oil, the garlic, 1 rosemary sprig and 2 sprig of thyme. Place the veal on top and cover with the rest of the rosemary and thyme sprigs. Add the red wine. Cover with the aluminium foil and put in the oven.

In the pan where you seared the veal, cook the scallions and the mushrooms.

Once all the water of the mushrooms have evaporated, add the Port wine. Add the cheese and let it melt.

Once the veal is cooked, slice it into 1/2cm slices. Cover all the slices with the mushroom and serve.

WordPress Recipe Plugin by ReciPress