Hey everyone,
so we had another dinner last Saturday with Sussy and Sblob, actually there were supposed to join us other two friends that cancelled.
Sussy made the Cosmopolitan cocktail to drink with the appetizers, and she also made cheese biscuits to go along with it. I never drank Cosmopolitan before, and I found it really interesting and delicious. Well done my friend!
I prepared a dish with feta to eat along the Carasau bread.
The main dish was the tuna steak, with green beans, oven roasted cherry tomatoes and goat cheese. We bought a griddle and we were excited to use it, actually Sblob cooked the tuna.
For the dessert Sussy made her delicious cheesecake (I actually love it and I would do anything for a slice of it) and I made chocolate muffins with cream.
I will soon post all the other recipes, till then here is the menu.
Menu
Cosmopolitan cocktail with cheese biscuits and feta dish and Carasau bread
Tuna steak with green beans and goat cheese
Cheese cake and chocolate muffin with cream
This recipe has been inspired by a dinner we had in a restaurant in Manly (Australia) and I was particularly impressed by the combination of fish and goat cheese.
By the way, I really want to start creating my own recipes, so I asked my hubby and Sussy to create a "mystery box challenge" for me every week. We'll see if it works.
Cheers!
Photo: Susanna Clerici
Related posts:
Tuna steak with green beans and goat cheese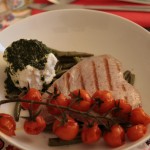 By Dalia Bonfanti Published: July 3, 2012
Yield:

4 Servings

Prep:

30 mins

Cook:

30 mins

Ready In:

60 mins
Tuna, green beans, goat cheese based
Ingredients
Instructions
Wash very well the basil leaves. put them in a mixer and mix them with the oil. Cover and keep aside.

Wash the cherry tomatoes without pulling them from the branch. put a baking paper on a baking tray and drizzle oil over it. Peel 1 clove of garlic and cut it in several pieces and spred them on the tray. put the cherry tomatoes with the tomatoes facing down. Bake for 30 minutes at 150°C.

Wash and cut in half the green beans. Mince 1 clove of garlic. Put a pot on the oven and put the oil in it. Add the minced garlic and then add the green beans. Cook for about 30minutes on low flame. Season with salt when they are cooked.

Rub the griddle with oil and put on a high flame until it is hot. Then lower the heat and cook the Tuna steak. If the steaks are less than 2 cm then you need to be quick to turn the steak on the other side. Over cooking a tuna steak will make it dry, so please be careful. I seasoned it at the end with Hawaiian salt.

Put the green beans at the bottom of the plate, add the goat cheese and cherry tomatoes. Put the tuna steak on top of the green beans. Put the basil oil on top of the goat cheese. Serve and enjoy!

WordPress Recipe Plugin by ReciPress