These days in Milan is really really hot. Right now it's almost 9 P.M. and yet outside we have 30°C.
And I think this recipe is really what your body craves in these days. Watermelon is refreshing and satisfying.
You can prepare this quick dish for dinner, as I am sure that most of you don't want to set the oven on and prepare a hot meal.
When my hubby was juicing the limes, our mind dreamt of beautiful summer Tropical nights with a careless Mojito.
Actually as we can't use vinegar of any type, I discovered that lime juice is really much better than lemon juice for condiment. You can feel the citrus flavour and yet it doesn't have that strong acid flavour.
Tomorrow, I won't be posting any recipes, as I have a date. We will go and watch The Blues Brothers in HD!!! It's the 100th anniversary of Universal Studios and they celebrate with a tribute to John Belushi. It's an international cinema event as it will be aired in cinemas around the globe from the 20th to 21st of June. If you are interested in enjoying a very funny comedy with really good music and cast, please visit this site to have information about the cinema where the movie will be shown.
I will let you know all about it!
Cheers!
Related posts:
Watermelon Salad with Feta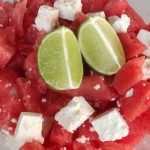 By Dalia Bonfanti Published: June 19, 2012
Yield:

2 Servings

Prep:

20 mins
Watermelon, feta and lime based.
Ingredients
Instructions
Cut the watermelon, discard the seeds and cut the flesh into pieces.

Juice 3 1/2 limes. The other half keep it for garnish.

Crumble the feta cheese.

Mix everything in a bowl until the flavours are all combined.

WordPress Recipe Plugin by ReciPress