Let's talk about bugs!
If you are not from Australia then you may not be familiar with them. They are not the crawling insects that are gross to see.
Bugs are delicious crustacean (that look like fossils) that are underestimated in other parts of the world.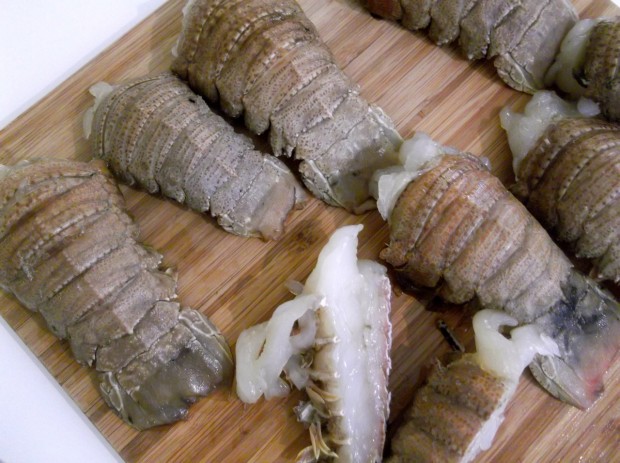 A few week ago I received a special message from a friend who was willing to give me seafood/fish because she loved the photos she was seeing of the dishes I make.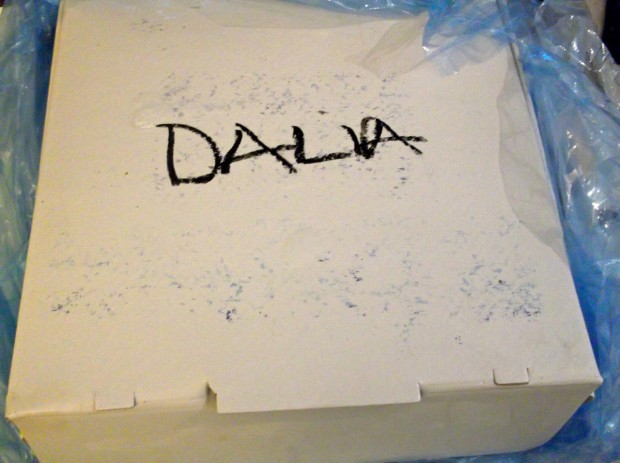 Cris is such an interesting girl and she works on a fishing boat. They catch anything from crustaceans to various types of fish along the Western Australia Coast. The only time we can meet is when thy dock at the Fremantle port and she gets to come around Perth to see friends.
I found her life very fascinating!
I really was feeling overwhelmed and privileged by her gesture. So we decided to meet with our friend Alex for a beer and nibble.
The huge box she brought had bug tails, 3 types of prawns and soles.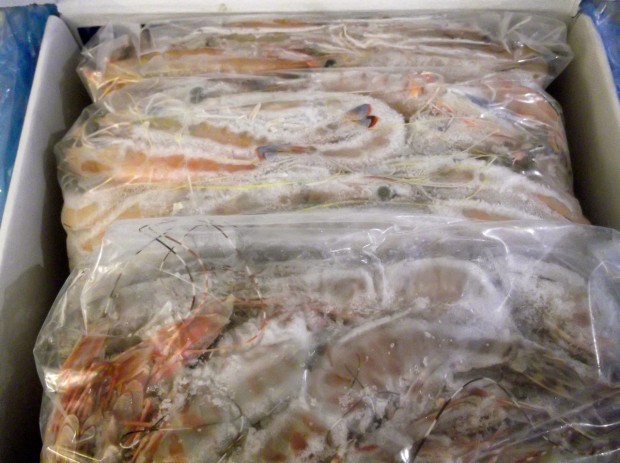 This gift was paid with a high price of sleepless nights and sweat. And I was feeling great pressure not to ruin any of the products.
So I decided to start with the bugs which are the challenge as I have never ever eaten nor cooked them.
One of my bibles for Australian produce is Stephanie Alexander's book The Cook's Companion.
This book is filled with a detailed information of each product, the varieties, the selection and storage tips and the preparation along with some recipes.
I love crustaceans and shellfish. And if it the first time I am tasting one, I prefer to have it cooked as simple as possible to get an organic taste.
And that's why I decided to make the bugs just with some butter creamed with parsley and little tiny bit of garlic. And because the flesh of the bug is fatty I thought that a sweet/acidic Mango salad was just complimentary.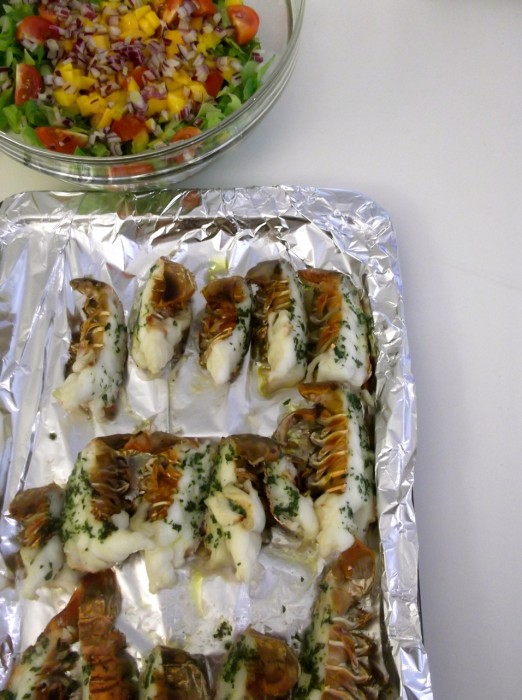 So just want to say to Cris that I truly admire her work and that I am grateful for the opportunity to cook and taste beautiful seafood. Hope to see you soon and we can enjoy a BBQ with the prawns.
Anyone ever cooked bugs before? Comment below and let me know how did you cook them and what did you serve them with.
Cheers!
Dalia
Related posts:
Grilled Bugs with Mango Salad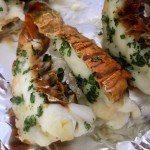 By Dalia Bonfanti Published: December 9, 2014
Yield:

2 Servings

Prep:

20 mins

Cook:

15 mins

Ready In:

35 mins
Let's talk about bugs! If you are not from Australia then you may not be familiar with them. They are not the crawling insects that …
Ingredients
Instructions
Wash the bugs and split them in half. Remove the intestinal thread.

Cream the butter with the parsley and garlic. Rub it on the bugs flesh. Freeze the leftover butter and use it steak or spread on toasted bread.

Grill the bugs for 15 minutes until the shells become brilliant red.

While the bugs are cooking toss in a bowl the cos lettuce, mango, cherry tomatoes and red onion. Dress with olive oil and salt.

WordPress Recipe Plugin by ReciPress