It's the beginning of a wonderful week, hopefully.
I have been to Pesaro. It's a small city in the region of Marche, in the centre of Italy.
I have lived there for almost 8 years before moving to Milan. Marche is a very rich region from the food and wine point of view.
One of the food I can't resist is fritto misto of fish (fried fish), piadina and lumachine (periwinkle).
I drank and tested 2 wines, Passerina Velenosi (white) and Rosso di Montalcino of 1995 (red).
Anyway I had a nice weekend, especially after seeing my daddy and bro that even though they are having a tough time still they are smiling and cheerful.
Here is a fresh and light quinoa recipe.
Have a nice week!
Related posts:
Quinoa with tofu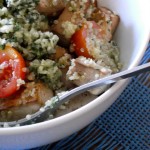 By Dalia Bonfanti Published: June 11, 2012
Yield:

2 Servings

Prep:

30 mins

Cook:

15 mins

Ready In:

45 mins
quinoa, tofu and home-made pesto
Ingredients
Instructions
Turn the oven to 150°C. Cut the tofu into cubes and cover the cubes with the soy sauce. Let them sit for 5 minutes. And bake them for 15 minutes.

Wash and cut in half the cherry tomatoes.

Wash the basil and grind it with the almonds adding a little bit of the olive oil.

When the Tofu is ready, mix all the ingredients in a bowl. Season just the way you like it. And serve.

WordPress Recipe Plugin by ReciPress