Good week everyone!
It's been a beautiful weekend! We had a wonderful dinner at our house, with a couple of our friends that will move to Brazil at the end of August.
It's beautiful to share experiences and see their enthusiasm fo this new adventure. I somehow can't wait for our turn, to take that leap.
Anyways this recipe is part of the mystery ingredients challenge (inspired by the mystery box challenge in Master Chef). So I asked the help of Sussy and Hubby that will give me every week a list of ingredients, which I will assemble into a recipe from scratch (I have to use at least half of the ingredients).
These are Sussy's ingredients:
goat cheese
potatoes (I can't eat them, so I eliminated them
eggs
soy sprouts
chicken bites
tomatoes
Here is what I made!
You too are welcome to participate with you mystery ingredients!
Cheers!
Tip: sauteed scallion slices are a must on this dish.
Related posts:
Chicken with Goat Cheese and Soy Sprouts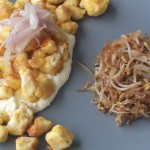 By Dalia Bonfanti Published: July 9, 2012
Yield:

2 Servings

Prep:

10 mins

Cook:

30 mins

Ready In:

40 mins
Chicken, goat cheese, eggs and soy sprouts
Ingredients
Instructions
Wash and drain very well the soy sprouts. Warm a pan with 1 tbsp of oil and cook the sprouts. When they start to soften add the soy sauce and the bay leaf and cook until the sauce is absorbed.

Boil 1 egg for 10 minutes.

Beat 1 egg. Put the flour in a freezing bag. Pass the chicken cubes in the egg mixture and then put them in the bag. Mix well the chicken in the bags, make sure they are covered by the flour.

Warm the remaining oli in a pan. Cook the chicken cubes until they become crunchy, about 20 minutes.

Once the egg is boiled, peel it. Put the cheese in a mixer with the egg white cut in pieces and the yolk.

Saute for 3 minutes the slices of the scallion.

Serve by putting the creamy cheese on the plate. Season the chicken cubes with salt and pepper. Put them on the cheese. Put the slices of the scallion on the chicken. Put on the side the soy sprout.

WordPress Recipe Plugin by ReciPress