I have just finished reading a wonderful book by Fannie Flagg, Can't wait to go to Heaven. I just discovered that it was the last book of a series of 3 books. The main character, Mrs. Elner Shimfissle, will be an inspiration in my life. You may think I am exaggerating, but you have to read the book to understand. This book is about life and about appreciating what life has to offer you. I know some of you may be passing through a tough time, and I may not know how you are feeling, but I am confident enough to say that everything will soon pass and the sun will shine again. Take the best of the tough times, they are the arms and instruments that you will need in your future. I passed through a real hard time when my dad had an accident in his job and got an ugly injury. The doctors of the first hospital where they took him made a mistake that got him a gangrene. We immediately too hi to another hospital and even though they tried to save his arm, at the end I chose his life over his arm. This happened right after Easter. I was 15, I had an older brother with a depression (it was like a brain paralyzation), I had a high school final exam, I discovered that I had a step sister, etc etc
At the end of the day, one of the best moments of my life are all when I was 15 until 17 years old. I always look at the bright side of life and I am aware that my life has a limit and so I want to live it the best way I can.
I cherish all the bad experiences I had, because they are part of me, just like my arm, my eyes, my ears etc I can't function without them. I can't cancel them and I never want to do so. My life, till now, has been a roller coaster, an exciting journey. And I want to keep on making those breathe taking twirls until the day I reach the end, and I have to get off.
What I am saying is weigh the problems you are facing, compare them with other happenings in your life.
You may be a 40 years old woman, and feel that the game is over for you. When you get that feeling, weigh it and see if it is worth the importance you are giving it. You think you can't create your own family because yours wan't a good example. Is it really worth loosing the opportunity to try?
Life is beautiful! Have you ever thought how beautiful you are internally and externally, all around you is colourful and thanks to your yes you have the opportunity to admire it. Love your life and live it fully with no regret. It will not be easy, but at the end it's all worth ride!!!
This recipe is part of my saturday dinner.
We had it along Sussy's  delicious biscuits.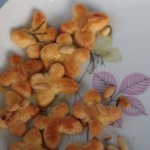 PS: we ate it with a Carasau Bread (with wheat), but I will create a wheat free bread and post it soon.
Inspired by: Martha Stewart
Photo: Susanna Clerici
Related posts:
Feta with shallots, scallions and mint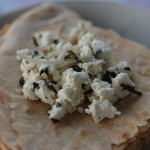 By Dalia Bonfanti Published: July 4, 2012
Yield:

4 Servings

Prep:

10 mins

Cook:

5 mins

Ready In:

15 mins
Feta, green onions, scallions and mint
Ingredients
Instructions
Warm a pan with the oil. Add the scallions and shallots and cook on low flame for not more than 5 minutes. They should not over cook, they must be a bit crunchy. Add the chopped mint and let everything cool.

In a bowl combine the crumbled feta and the mint mix.

Serve it with wheat-free bread.

WordPress Recipe Plugin by ReciPress