This recipe belongs to Esther Mozzi, she is the daughter of my doctor Piero Mozzi. He refers to himself as "doctor and surgeon based on nature", he cures diseases with a personalized diet, he doesn't prescribe medicine. His cure is based on the blood type and various symptoms of each person. My hubby and I have been in cure since last year and a lot of our symptoms have gone away others we control with the diet he prescribed to us. You can find out more here.
Choccy-cheers!
Related posts:
Wheat free ricotta and chocolate cake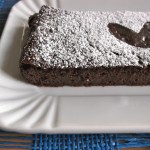 By Dalia Bonfanti Published: May 26, 2012
Yield:

10 Servings

Prep:

15 mins

Cook:

45 mins

Ready In:

60 mins
Ricotta based cake
Ingredients
Instructions
Mash the ricotta cheese.

Beat the yolks with the sugar until they are fluffy and add the cocoa powder.

Beat the egg whites till stiff and add the yolk mixture. Gently fold them without whipping

Once they are well mixed pour the mixture into a stamp. You can either use a baking sheet inside the stamp or just rub a bit of butter t it, to prevent the batter from sticking.

Bake it for 45 minutes at 170°C.

Wait for it to cool down and serve with iced sugar sprinkled on top.

WordPress Recipe Plugin by ReciPress