Do you ever wonder whether telepathy exists or not? I do, because it happens often that me and the people who are close to me, end up doing the same thing or thinking the same thing at the same moment. This usually happens with my husband or my best friends. Yesterday it happened with Sussy, she too was preparing the chocolate cake I made yesterday. So today, I had the chance taste the cake made with the original ingredients. I enjoyed it a lot, and it was fun that we exchanged our pieces of choccy-cake.
So, for the second day of this chocolate marathon, I used white chocolate. This weekend we went to Feltrinelli library (one of the biggest Italian libraries) and I found a small book published by Food Editore all about chocolate. I have never used white chocolate for cooking, so I wanted to try the mini cheesecake with caprino (goat cheese).
Some of the things I have noticed are:
while baking,the cheesecake puffed up and once out of the oven it just fell;
we couldn't really taste the white chocolate flavor as the amaretti biscuit were stronger;
raspberries are essential.
The ingredients were supposed to be for 4, and yet they lasted for 6.
Choccy Cheers!
PS: I want to thank my hubby for helping me!
Related posts:
Wheat free mini goat cheesecake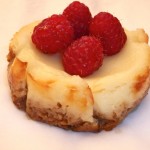 By Dalia Bonfanti Published: May 22, 2012
Yield:

6 Servings

Prep:

10 mins

Cook:

20 mins

Ready In:

30 mins
Goat cheese based.
Ingredients
Instructions
Turn the oven to 170° C. Mix very well the cheese with the cream and sugar, until it becomes a light cream. Beat the egg and add it to the mixture. Then add the chocolate. Crush the amaretto biscuits with a little bit of butter and mix well.

Cover the stamps with baking paper. Add the amaretto mixture creating the base, then add the cream. Bake for 20 minutes at 170° C. Once baked, let them cool down and put them in the fridge for 1 hour.

Serve with rasberries on top and mint leaves.

WordPress Recipe Plugin by ReciPress