I am so overwhelmed by the beautiful news I received on the 19th of August. My best friend Frully gave birth to a baby boy. Welcome to this world Luca, we all have been waiting for you. Congratulations mom and dad!
I really can't wait to see him, as they don't live in Milan I have to wait for one of the coming weekends.
Last week we went to Excelsior Milano, it's a shopping mall in the center of Milan, near Duomo.
We love to go there from time to time and we only pass by the LaDurèe shop and Eat's.
LaDurèe is a a very famous macaron shop, you find it on the left as you enter the shopping mall. I love their macarons, they are perfect. They are crunchy on the outside and really soft in the inside. One thing I appreciate apart the flavour of their macarons, is their creativity in proposing different macarons every time. So you always find the classic flavours and from time to time they add new flavours, such as macarons with marshmallow fillings, slurp 😉 .
Eat's is the super market on the underground floor (i think -2). Only seeing the fresh produce makes my day. The produce is well organized, fruits and vegetables are always fresh and beautiful, bakery is full of frescly baked bread, cakes, biscuits, there is the fish area and last but not least teh cheese area.  I don't eat alot of dairy products axcept for those made with goat's milk, but I cheat from time to time to taste a new chesse and this place is the right place.
While wondering around we found 3 types of cheese we wanted to try and these beautiful zucchini blossoms that were really fresh and inviting.
We ate them as soon as we got home. Even if 20 blossoms are for 4 people, don't be ashamed to ahve them only for 2 of you, cause they are super delicious!
Cheers! 
Tip:  It's better to remove the pistil as it gives the fritter a sour taste. But it all depends on your taste!

Related posts:
Zucchini Blossom Fritters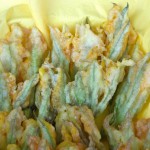 By Dalia Bonfanti Published: August 21, 2012
Yield:

20 (4 Servings)

Prep:

10 mins

Cook:

10 mins

Ready In:

20 mins
Zucchini blossoms, egge and corn flour based
Ingredients
Instructions
Beat the Corn flour, with water until they are well combined. Then add the egg and mix well.

Put a frying pan on a medium-high flame, and heat the frying oil.

Use a toothpick to be sure the oil is warm enough, insert it in the oil, if bubbles begin to form then the oil is hot enough.

Dip the blossoms in the batter and fry until they are golden and crunchy.

Remove the excess oil with a kitchen paper, season with salt and serve immediately.

WordPress Recipe Plugin by ReciPress