I couldn't post anything yesterday, the actual day 5, because what I was trying to do just didn't come out as it should have.
I tried to make a chocolate pudding with Rum, but after and hour and after 2 hours in the fridge it just couldn't get solid.
So this morning I baked everything for 10 minutes and they just turned out fine.
Another mistake I made, was not to use an aged Rum, instead I used a white Rum (Bacardi).
I will try again one of these days and I will post it, meanwhile here is the recipe for the mini cakes.
I recommend you to use very fresh eggs when you deal with recipes with raw yolk or egg white. Just look for the package that has the date of the laying nearest to the date in which you intend to use them.
Hope you enjoy and sorry for posting late!
More choccy recipe to come today!
Choccy-cheers!

Related posts:
Wheat free mini cakes with Rum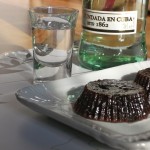 By Dalia Bonfanti Published: May 26, 2012
Yield:

6 mini cakes (6 Servings)

Prep:

15 mins

Cook:

10 mins

Ready In:

25 mins
Chocolate and egg based mini cakes
Ingredients
Instructions
Turn the oven to 200°C.

Put the milk and cream in a sause pan and boil them. In the meantime, beat the yolks with sugar. Add the Rum and the cocoa powder.

Put the chocolate to melt into the milk mixture. And once it's cool add it to the egg mixture and beat together.

Pour the mixture in small stamps and bake for 10 minutes at 200°C.

WordPress Recipe Plugin by ReciPress